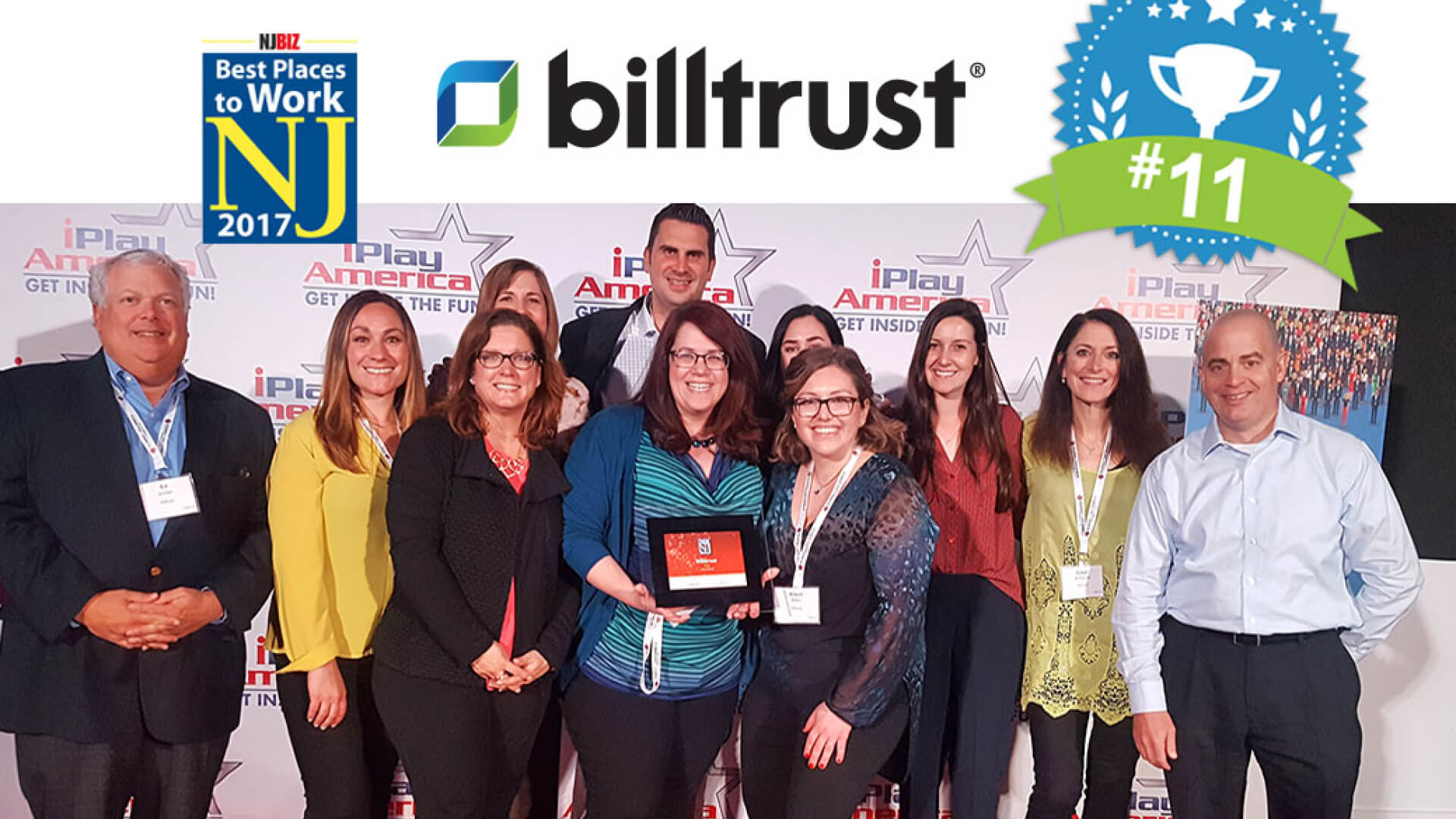 HAMILTON, NJ. – April 28, 2017—Billtrust, the leader in payment cycle management, has been awarded "Best Places to Work in New Jersey" for the fourth consecutive year. This year, Billtrust moved up to the number 11 spot within the large employer category.
"We are always excited to be selected for this prestigious award," said Jeanne O'Connor, VP Human Resources at Billtrust. "Of course we love that we are able to say that we are one of the best places to work in New Jersey, but we also benefit from the input that our employees provide in the employee engagement survey. We strive to have a culture of open dialogue, and this gives us another opportunity to see how employees feel about Billtrust."
The award recognizes and honors the top businesses as places of employment in New Jersey that contribute to the state's economy, and most importantly, its workforce. The program, managed by Best Companies Group, identifies top performing companies located in New Jersey based on a thorough assessment of the company through employee satisfaction feedback.
"We understand that attracting and retaining key talent is a significant differentiator in a business environment, especially one that is as technology driven as ours," said Flint Lane, CEO at Billtrust. "Any employee engagement program has to be genuine and implemented from every facet of the company. Our company is growing week by week, so we work hard to foster an environment that encourages innovative thought as well as personal and professional development. This allows us to bring out the best in each other and our clients."
"Through ongoing philanthropic efforts, employee development, and community outreach programs, Billtrust offers a variety of ways that employees can engage with each other and their local community," Ms. O'Connor adds. "Open PTO and generous paid parental leave also provide a family-friendly environment to help support employees with work-life balance." Most recently, Billtrust has launched a sabbatical program, whereby both full and part time employees who have completed seven continuous years of employment are encouraged to take an extended time away from the office in order to do something to enrich themselves on a personal and professional level. "We believe these are just some of the reasons why we have such positive employee base."
With headquarters in Hamilton, New Jersey, Billtrust also has offices in Denver, CO, Chicago, IL, and Orange County, CA.
Best Places to Work in New Jersey unveiled the 2017 recipients at an award ceremony on April 26, 2017. Learn more about at bestplacestoworkinNJ.com.
About Billtrust
Billtrust accelerates cash flow by automating invoice delivery, invoice payment, and cash application. Companies can improve operational efficiency throughout the invoice-to-cash process with electronic invoicing and payments in a flexible, cloud-based solution. Finance executives and AR specialists love and recommend Quantum, Billtrust's payment cycle management solution, for the remarkable cost savings, ease-of-use, and improved customer satisfaction rates.
Want to know what Billtrust can do for you?
See how these clients achieved stellar results by reading our
Customer Success case studies
.