Customers are changing the dance steps for many transportation companies when it comes to how payments are processed.
Increasingly, customers are demanding that their transportation providers feed their invoices into third-party freight payment firms, AP portals and buyer portals. By 2025, over 50% of the global midmarket and large enterprises will have deployed procure-to-pay suites according to Gartner.
Instead of speeding up payments, automated AP can actually bog them down. How is that possible?
AP digitization means work for AR teams
As freight customers move away from traditional paper and email invoicing, the pressure on transportation companies to adapt is intense. This is because AP automation is adding a lot of work for AR teams who have to manually key invoices into their customers' accounts payable portal of choice. For large AR teams, this can translate into coordinating with many different AP systems.
Adapting to automated AR can be challenging for many transportation companies, especially those that lack robust IT teams who can pursue Electronic Data Interchange (EDI) or Robotic Process Automation (RPA) integrations internally.
The bottom line is when invoices fail to post, payments are delayed.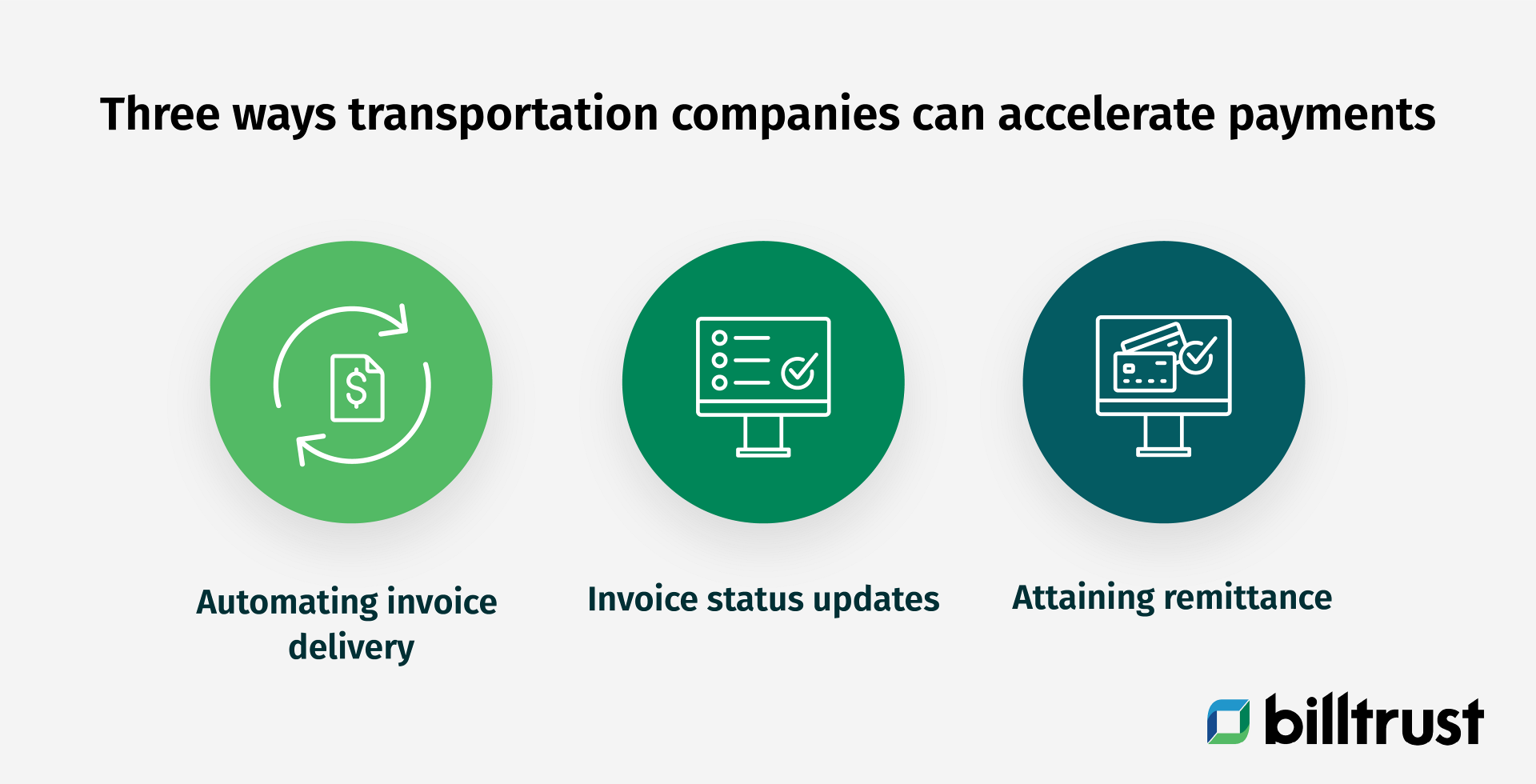 Three ways transportation companies can accelerate payments
Partnering with a state-of-the-art AR automation platform enables the straight-through processing of invoicing, payments and cash application while minimizing security risks and ensuring compliance. Not to mention the reduction in labor costs and human error.
There are three ways AR automation platforms should help transportation companies accelerate payments:
Automating invoice delivery
The AR automation providers should have an electronic payments network in place that makes it simple and seamless to work with AP portals, eliminating the manual workloads we've touched on above.
Billtrust's Business Payments Network (BPN) is unique in its global reach, allowing sellers to submit invoices to buyer AP portals through our extensive database. Increasingly, that delivery is becoming less hands-on through API integration. Currently, we automatically deliver invoices to more than 175 AP portals.
In 2021, we delivered 397,000 invoices worth $1.1 billion to AP portals used by 4,100 buyers. This was a 69% increase in invoices delivered automatically over the previous year.
Invoice status updates
One invoicing challenge for transportation companies is not knowing that an invoice has been rejected. That might be due to an incorrect PO number, for example, and payment is being withheld pending a "properly presented invoice." When you automate your invoicing with Billtrust, the day after uploading your invoice you can quickly see if your invoice was received.
Billtrust allows you to easily view all invoices statuses in one place. You can then quickly handle any exceptions and get back on the path to payment.
Capture remittance
Once your invoice is received, it's time to get paid, and paid quickly. Billtrust customers have access to our Digital Lockbox: an email inbox where your payments are sent or re-routed.
The Digital Lockbox automatically processes credit card payments. It also captures CC and ACH remittance everywhere it lives whether that be emails, websites or AP portals.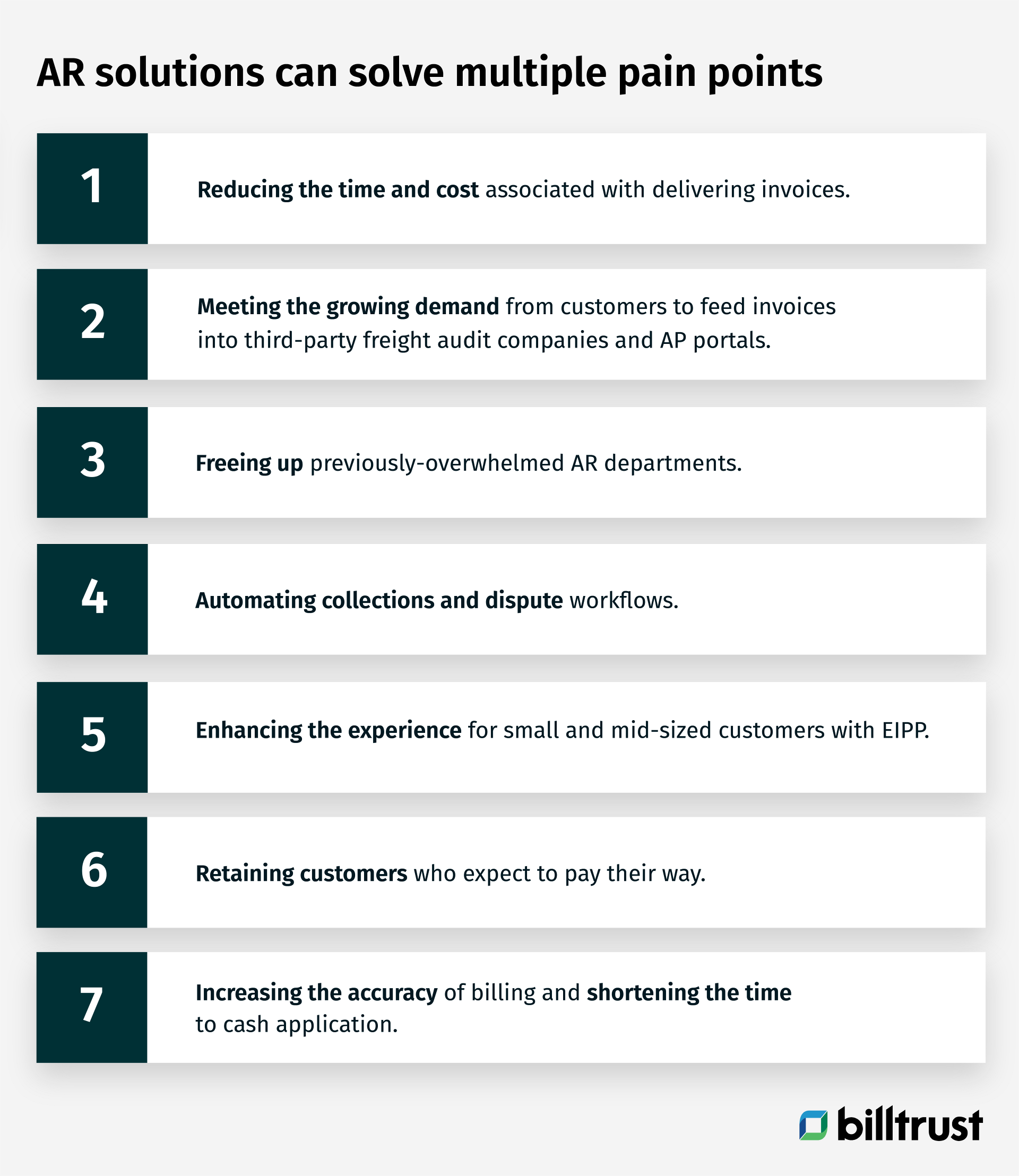 AR solutions can solve multiple pain points
AR automation solutions can accelerate payments while streamlining the entire order-to-cash process. So the "payment dance" we mentioned at the top of the article becomes far more enjoyable for everyone involved by solving key pain points:
Reducing the time and cost associated with delivering invoices.
Meeting the growing demand from customers to feed invoices into third-party freight audit companies and AP portals.
Freeing up previously-overwhelmed AR departments.
Automating collections and dispute workflows.
Enhancing the experience for small and mid-sized customers with EIPP.
Retaining customers who expect to pay their way.
Increasing the accuracy of billing and shortening the time to cash application.
Looking for more insights that put your transportation business in control of your cash flow and relationships in a global marketplace? The Billtrust team works with over 75 transportation companies with more than $225 billion in total revenue, so we're experts at providing customized AR solutions.
Get our new eBook on how AR solutions can address your payment challenges. Or reach out to one of our transportation sector experts today.