Our CEO, Flint Lane, led a panel session at Billtrust Summit, our annual conference, with three Billtrust customers who achieved success within their own diverse industries and segments. The conversation focused on key business challenges, strategies and solutions used to resolve those challenges, and emerging themes within the industry.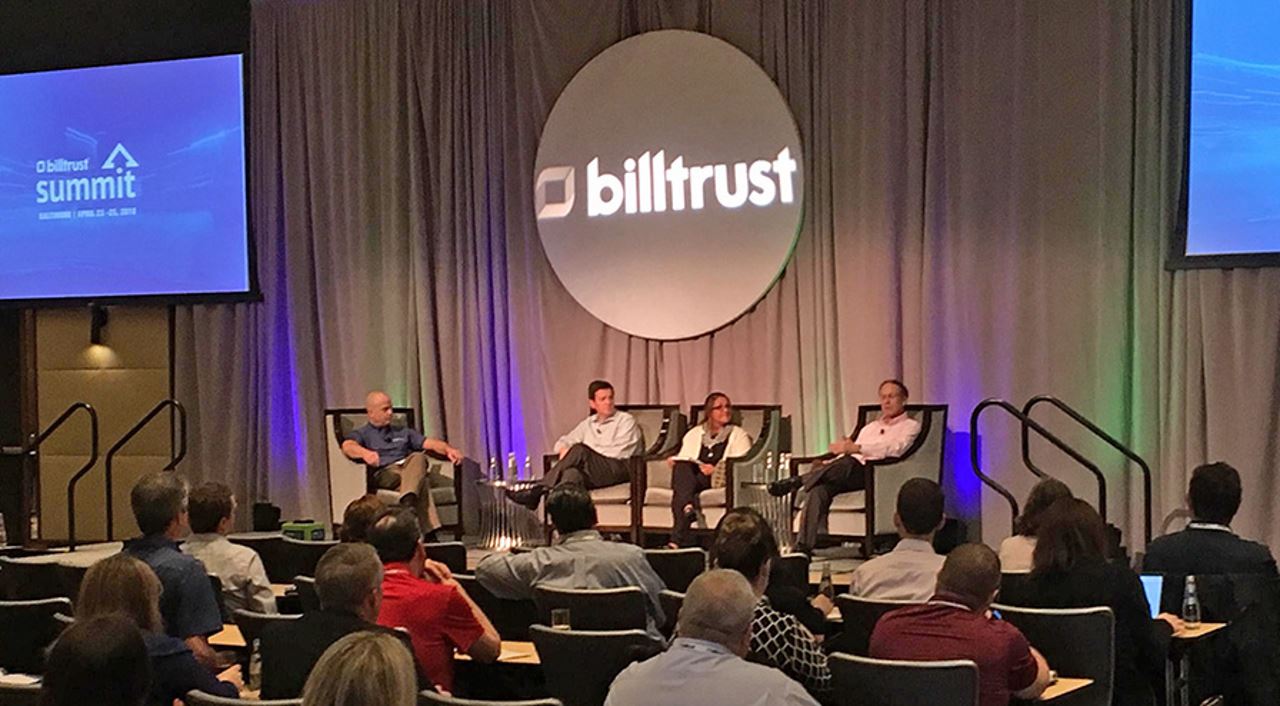 Our esteemed panelists included:
Mark Storey, Senior Director, Credit Management - Acushnet, Consumer Goods company
Tim Drake, VP of Credit and Collections - thyssenkrupp Elevator Corporation, Manufacturing company
Tina Schneider, Manager, Credit and Accounts Receivable - Medela, Manufacturing company
Flint Lane, Billtrust CEO and Founder
Our customer panel discussed quite a few topics in the hour-long session. Here are a few of the highlights:
What have been some major challenges that Billtrust has helped with over the last few years?
Mark Storey: "I could never get my hands what our costs were to produce an invoice. That had implications in terms of budgeting… we reached out to Billtrust [during an ERP implementation] and saw what they could offer. It was a nice fit that could plug the gap immediately while providing control around how much we can pay to produce an invoice."
How difficult is it to get projects approved internally? There are a lot of prospects in the room who have budgetary or IT restrictions… What are some of the techniques you use to get buy-in from IT, budget allocation or other techniques you use?
Tim Drake: "Change management is hard, especially internal competitiveness with IT resources. Everyone wants to use IT or project team resources. I've learned to put the right people on these projects and build the proper business case that will contribute to the bottom line; this is the key for our organization."
Tina Schneider: "We're a much smaller organization, so I sit with the VPs of Finance and IT, and they tell me if they can give me a resource or not. I have to build a business case for myself, and map it out in a way that will cut costs for the company while also keeping the overhead down."
How much do your executives worry about compliance? It seems as if there is always a new regulation that needs to be followed…
Tim Drake: [Compliance] is entrenched across our entire organization. We take trainings multiple times a year, and every one of our meetings starts with safety and compliance."
Tina Schneider: "PCI compliance is big for us, and we've eliminated a lot of that [worry] by putting everything through Billtrust; they house all of our credit cards now. The only time we have credit cards is if a customer is pre paying, but they are encrypted."
How does your organization feel about credit cards?
Tim Drake: "I would accept payments through carrier pigeon."
Tina Schneider: "It would be unacceptable to not accept credit cards in our industry. We take control of our fees by implementing a minimum order size because those [credit card] fees add up."
Mark Storey: "We're a bit more hesitant to accept credit cards because of the fees."
A few of the key takeaways that Summit participants learned from this panel discussion include:
Control of costs across the order-to-cash lifecycle: Little changes can lead to big savings, like driving electronic invoicing adoption, or taking advantage of Level II and III exchange rates.
Look for ways to establish internal efficiencies: If you are doing a manual task over and over again, chances are Billtrust has a solution to accommodate your need.
Allow customers to self-serve: Payors want flexibility to pay how they want, when they want. A/R teams reap benefits of self-service, including a decrease in costs, a decrease in customer service calls and an increase in customer satisfaction
We want to extend a big THANK YOU to our panelists for their participation and insight!
About the author:
Taylor Hastings is an Associate Solutions Marketing Manager at Billtrust. You can connect with Taylor on LinkedIn.