What if you were told that your distribution business is at a crossroads right now?
Many pundits are proclaiming that the distribution model is currently in a "perfect generational storm" of technological and demographic factors that are threatening to create an inflection point, the most significant crisis most distribution executives have ever encountered. And no one is more at risk than that of the small to medium-sized independent distributor.
The contributing factors are lined up like dominos:
At the eye of the storm are new technologies (powerful eCommerce sites, mobile everywhere);
Which in turn introduces new competitors (Amazon, the rise of non-traditional competitors, disintermediation);
Which in turn creates a heightened threshold of new buyer expectations (deeper product choice, faster delivery, pricing transparency);
Which in turn: causes shifts towards new buying behaviors (being able to buy what one wants, how one wants, when one wants);
Which in turn causes new business models (platform economies like Amazon, Uber and AirBnB).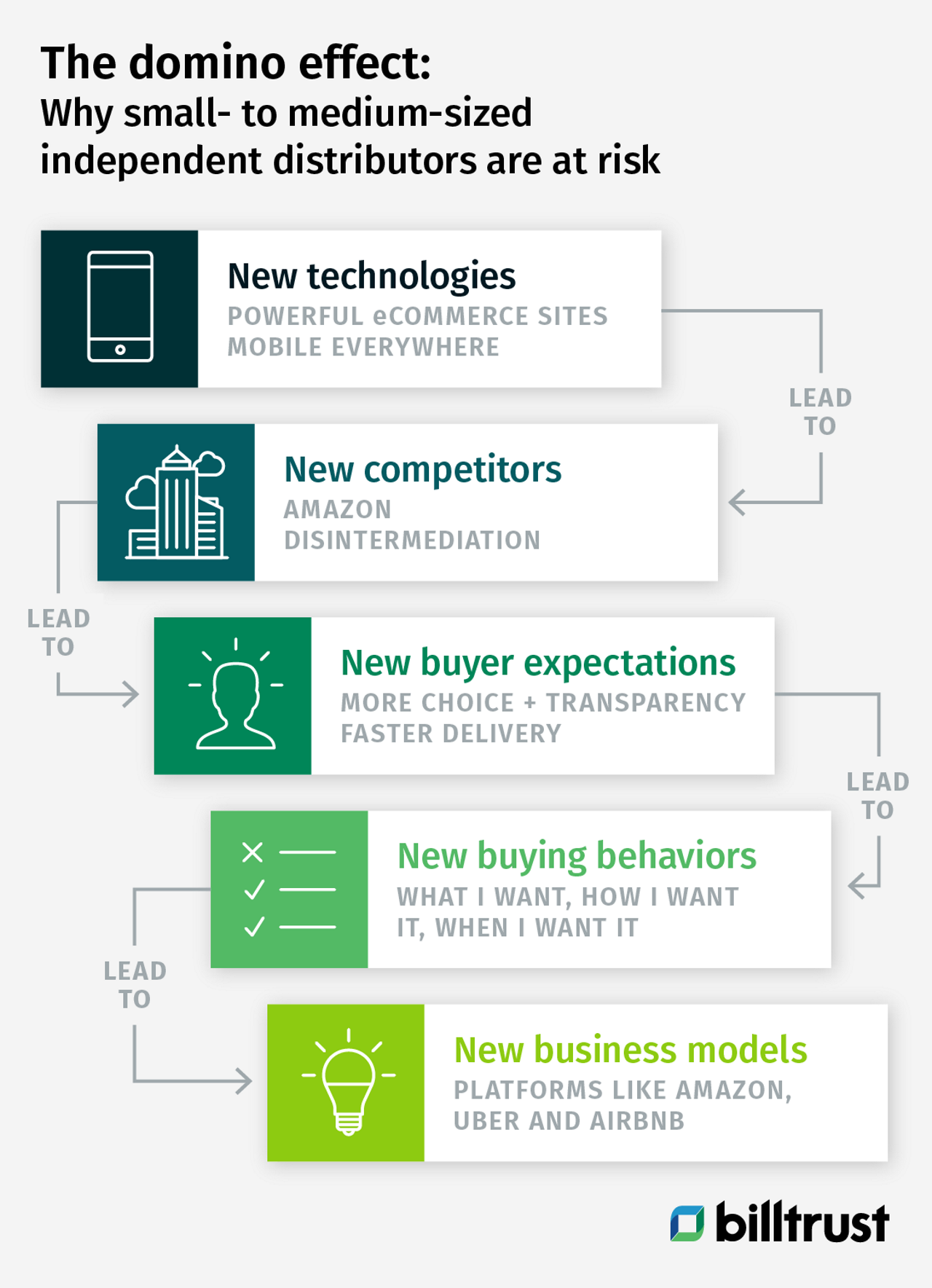 Focusing on the root of the challenge – new technologies – leads us to two critical elements of today's distributors' websites: customer-facing eCommerce abilities and availability of information. This is not good news for the independent. While they continue to attempt to narrow the gap on the cost of product vs the national competitors, they are ignoring the fact that eCommerce and online information are the biggest disparities they face vs their largest competitors.
The truth is, buyers are fixing the problem themselves, which represents the most seismic shift in buyer behavior we've seen in the past 25 years. That means that what independent distributors depended on as nationals grew – "getting the call when the customer has a problem" – is no longer a point of differentiation because the customer doesn't necessarily think of the distributor first. Who does the customer consult now? Google. And when does the distributor get the call now? When the customer has either solved their own problem, or has become stymied partway through their journey. But if that distributor's company is not on the computer screen when the customer reaches that point, why would they expect to get the call?
Do you give your customers access to the information they need to solve their problems? Do you allow your customers to place orders how they want?
Obstacles along the journey
For most independent distributors reading this post, there is a sizable disparity compared with their largest competitors when it comes to these capabilities. In fact, many have not even begun this journey. But credit where credit is due – some of you have tried, and realized that the journey is fraught with obstacles. Consider the daunting challenges associated with creating a content-rich customer-centric online shopping experience:
You have to select an eCommerce platform from hundreds of choices.
You have to collect data from the hundreds of vendors you represent.
Your data request is either not a priority for the vendor, or your vendor sales contact doesn't know who to go to in their own company.
Many manufacturers are not ready for these requests – even the national chains employ large teams of people to create vendor data themselves.
Data that you eventually receive from vendors needs to be converted to your data template.
And if you get this far with all your vendors, it's time to start all over again to refresh the data!
This paints a pretty bleak picture for the independent distributor. Your national competitors are aware of this disparity, and they are exploiting it directly with your best customers. Yet there is simply no way to hide from these needs – the need for a content-rich website is now table stakes, as defined by the customer. So you either scrape together the financial and physical resources to address this (simply not an economic option for many), or commence the slow slide into irrelevancy.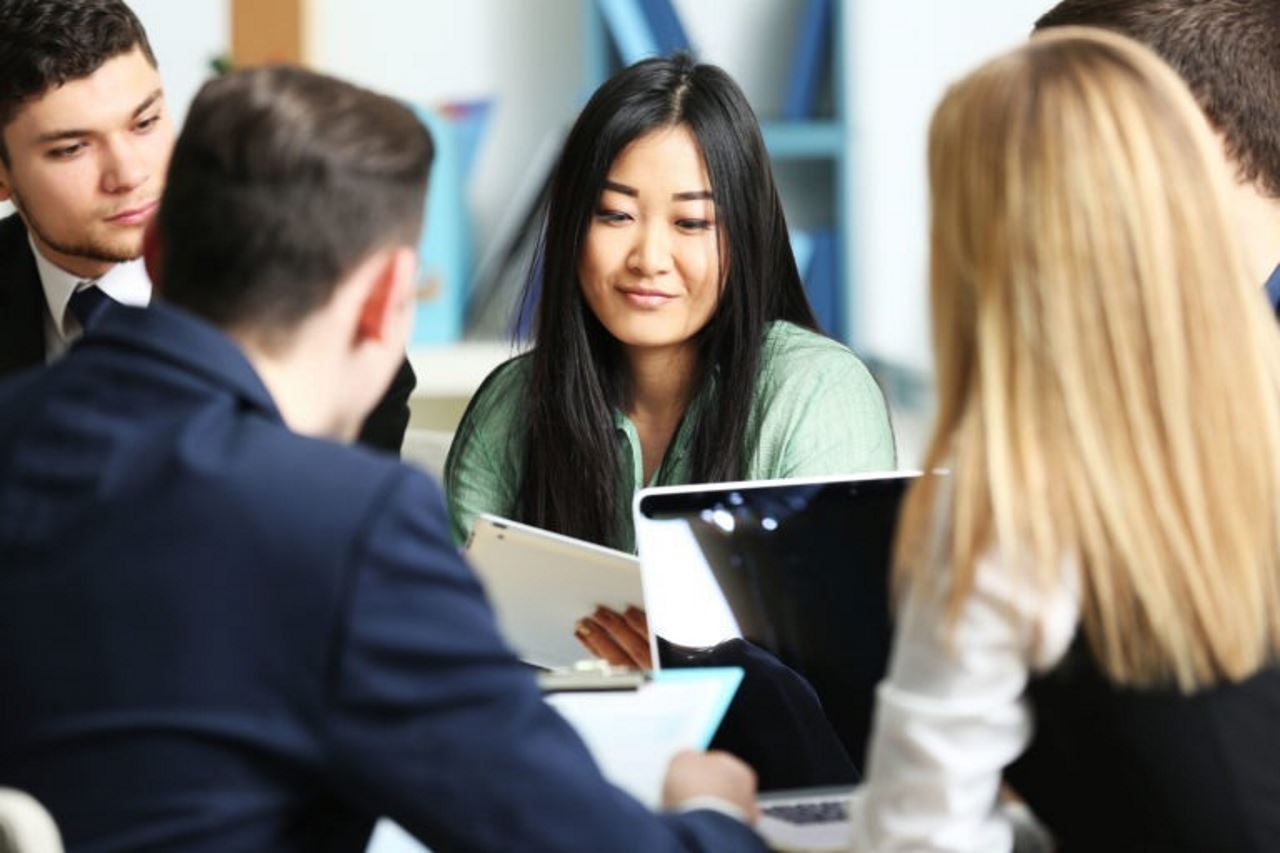 How to overcome the roadblocks
Thankfully, there is one avenue that can save the independent distributor from this dilemma. Many independent distributors reading this post belong to a buying group, or are owners of a purchasing co-operative. These group purchasing organizations (GPOs) have traditionally served to unify independents' purchasing volumes to level the product-cost playing fields vs. the national chains.
The good news is that today's more progressive GPOs are evolving beyond merely lowering acquisition costs and are expanding into centralizing common tasks performed by the majority of their stakeholders, thereby saving them money by eliminating repetition of effort. Creating a centralized database of manufacturers' data and creating content for distributors' websites are excellent examples of this!
But the tools, time and cost involved for your GPO's team are significant. The only way to overcome this is for the members of the GPO to:
Recognize that they eventually have to build these tools, so why wait;
Make your unified desires known to the Board of your GPO, and;
Be prepared to commit together to minimize per-member costs.
Without the independent distributor, the end-users and suppliers lack options to buy from and sell to, respectively. Therefore, independents reading this post are strongly urged to raise this issue with their GPOs and start the discussion on how to move beyond this crossroads.
Remember that there is a line forming outside the doors of your digital branch – all you need to do is unlock the doors and let them in.
Get started today
To learn more about how Billtrust eCommerce can leverage the services provided by your buying group to build you a holistic web store and mobile app, please fill out our contact form.