The payments ecosystem is a complex and constantly evolving landscape that plays a critical role in the operations of every business. This ecosystem involves credit card networks, acquirers, issuers, gateways and ISOs. This huge array of players sits between every payment made by a buyer to a supplier.
But does the payment ecosystem include your internal accounts receivable processes? If you ask your customers, it's likely they'd say "yes." Your internal AR processes, especially if they are manual, add complexity to processes of making payments to you. Every time your customers pay, their money runs the gauntlet.
Your goal should be helping them navigate their money through your internal processes and the larger payment ecosystem painlessly. Ideally, you've solved for the complexities, so the process seems simple to your customers.
In this article, we'll explain how platform solutions that help you automate your entire AR process can help you get there. By employing a platform solution (as opposed to a collection of point solutions) you can provide end-to-end visibility for your customers and internal teams, improve your AR processes and automate your daily order-to-cash activities.
Separating the economics from the ergonomics
Customer experience generally improves with more payment options. But the ergonomics of those payment options matters, too.
Some of these ergonomic factors of payments are customer-facing, like the customer experience of a billing and payments portal. But many happen behind the scenes, in your own processing and cash application operations. If you haven't set up a system to make payment acceptance easy on your side of the payment, your customers will feel the pain on their side.
Platform solutions help make payments easier in every channel. From automating invoicing through mail, email or portals, to automatically applying payments, robust AR software improves the experience of customers and AR professionals.
Your customer is depending on you to quickly accept and apply their payment to their account. Delays caused by paper checks traveling through the mail or waiting for processing are one of the major drawbacks of accepting check payments. Even ACH and credit card payments are subject to delay if your cash application operation is not quickly applying accepted payments.
Slow acceptance or application of payments can reduce your customers buying power or disqualify them for quick-pay discounts they would otherwise qualify for. They can also lead to erroneous calls from your collections department. No customer wants to be asked for a payment they've already sent.
Mistakes like these are signs of friction within your company's payments ecosystem.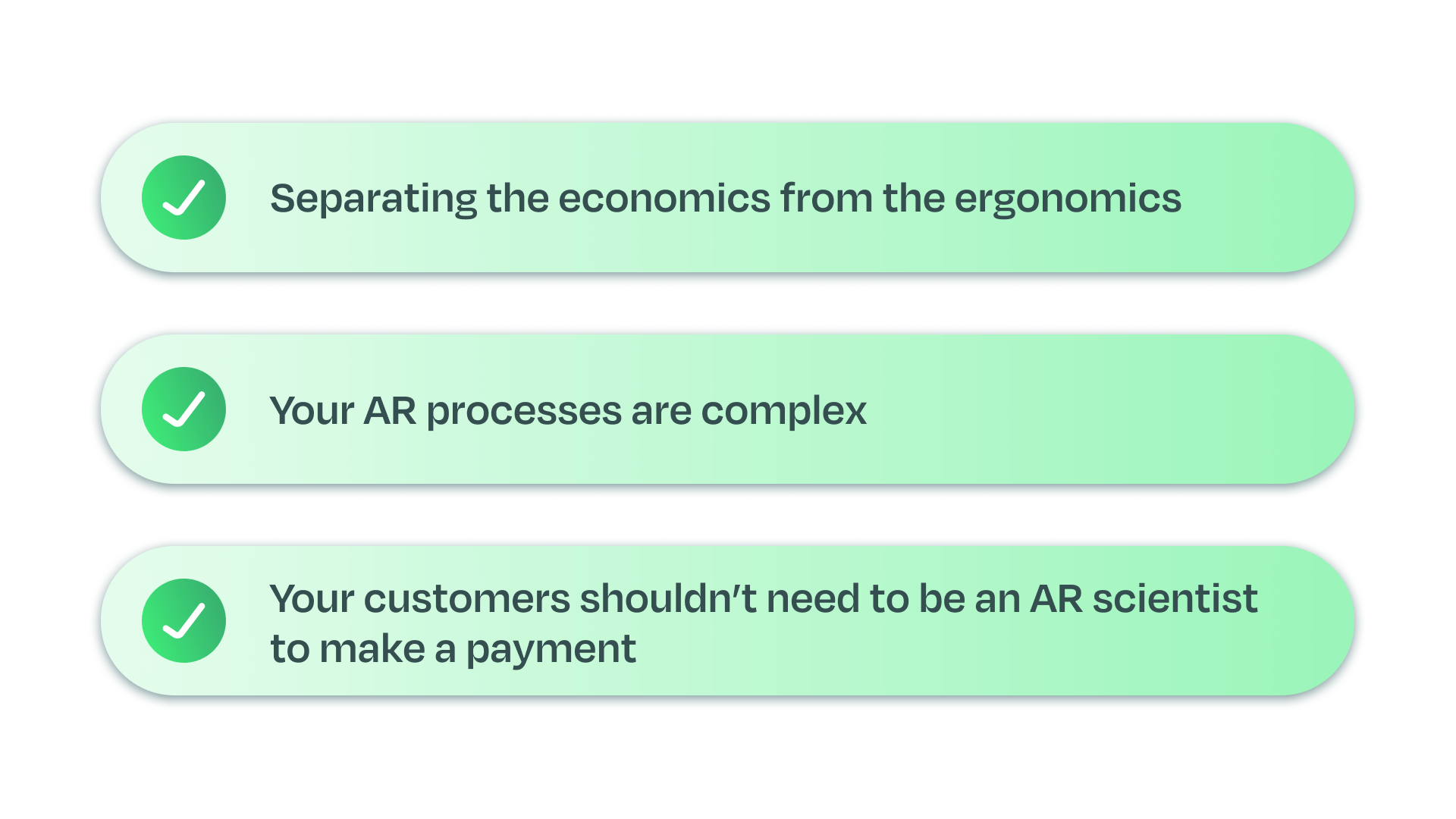 Customer expectations are growing
Innovative payments companies like PayPal and Venmo have raised customer expectations of B2B buyers, especially those in younger generations. They are looking for the same ease, transparency and speed they get from their consumer purchasing experiences.
It's essential that B2B businesses make it as easy and seamless as possible to pay them. That means providing multiple payment methods, offering online payment portals and mobile payment options and ensuring the payment processes are transparent and easy to understand.
Big buyers don't want to hear your problems
More and more of your larger customers are using AP portals and are requiring you to solely invoice them according to their specifications. As much as you may try to create a friendly payment experience for your customers, these larger buyers don't seem to care about your AR department's user experience.
Logging into AP portals to deliver invoices, correct exceptions and see statuses is time consuming and error prone. Developing integrations between your AR systems and each instance of your customers' portals can be a big lift for your IT department.
Robust third-party platform solutions like Billtrust can help. We have built-in integrations with over 190 AP portal providers and automate the entire process of generating, delivering and checking invoice statuses in AP portals.
How automated AR processes improve your payments ecosystem
Automation does more to improve your payments ecosystem than making AP portals easier to deal with. Billtrust's platform helps you deliver and track invoices, accept payments with ease and quickly apply payments to your customers' accounts.
The benefits go further than great customer experiences. With highly automated and digitized payments processes, you can break out your DSO by payment channel and direct customers towards the channels that are resulting in faster payments. Cash forecasting becomes more accurate. And employees can spend less time on manual tasks and more time with customers.
Connect with a Billtrust platform expert by filling out the form.