Over the 19 years that Billtrust has been innovating the order-to-cash process, it has become abundantly clear that the way suppliers deliver their invoices directly influences how buyers desire to pay them.
Let's break down the most common methods of eInvoice delivery and payment by customer segment.
Enterprise buyers
Large buyers have expansive accounts payable teams and employ sophisticated accounts payable platforms. They require their suppliers to invoice them directly through these platforms and will use those same platforms to deliver payment.
Mid-market buyers
These buyers have A/P teams of 1 - 4 employees and are often very interested in receiving invoices and making payment through a self-service portal maintained by their suppliers.
Small businesses buyers
Smaller buyers may not have a dedicated accounts payable (AP) team. They purchase from their suppliers infrequently and are therefore not as interested in signing up for and maintaining credentials on multiple suppliers' self-service platforms. Email billing is a good electronic invoicing solution for them.
You may have noticed that both Enterprise and Mid-market buyers enjoy the ability to pay via the same channels they are invoiced through, AP platforms and supplier self-service portals respectively, but that small business buyers that are invoiced through email have not yet had the ability to pay their bills through the email channel.
We noticed this as well, and that's why we are proud to announce Billtrust Payments' newest channel: Pay on Email.
Pay on Email is designed to drive more digital payments from our customers' small business and infrequent buyers. For many of our customers, this segment makes up a long tail of their buyer base. Converting these payments to a digital channel has the potential to save an enormous amount of manual effort across payment acceptance, cash application and collections activities.
A new way to take electronic payments from your customers
Pay on Email is a quick and secure way to take ACH and credit card payments, without requiring your customers to enroll in a portal.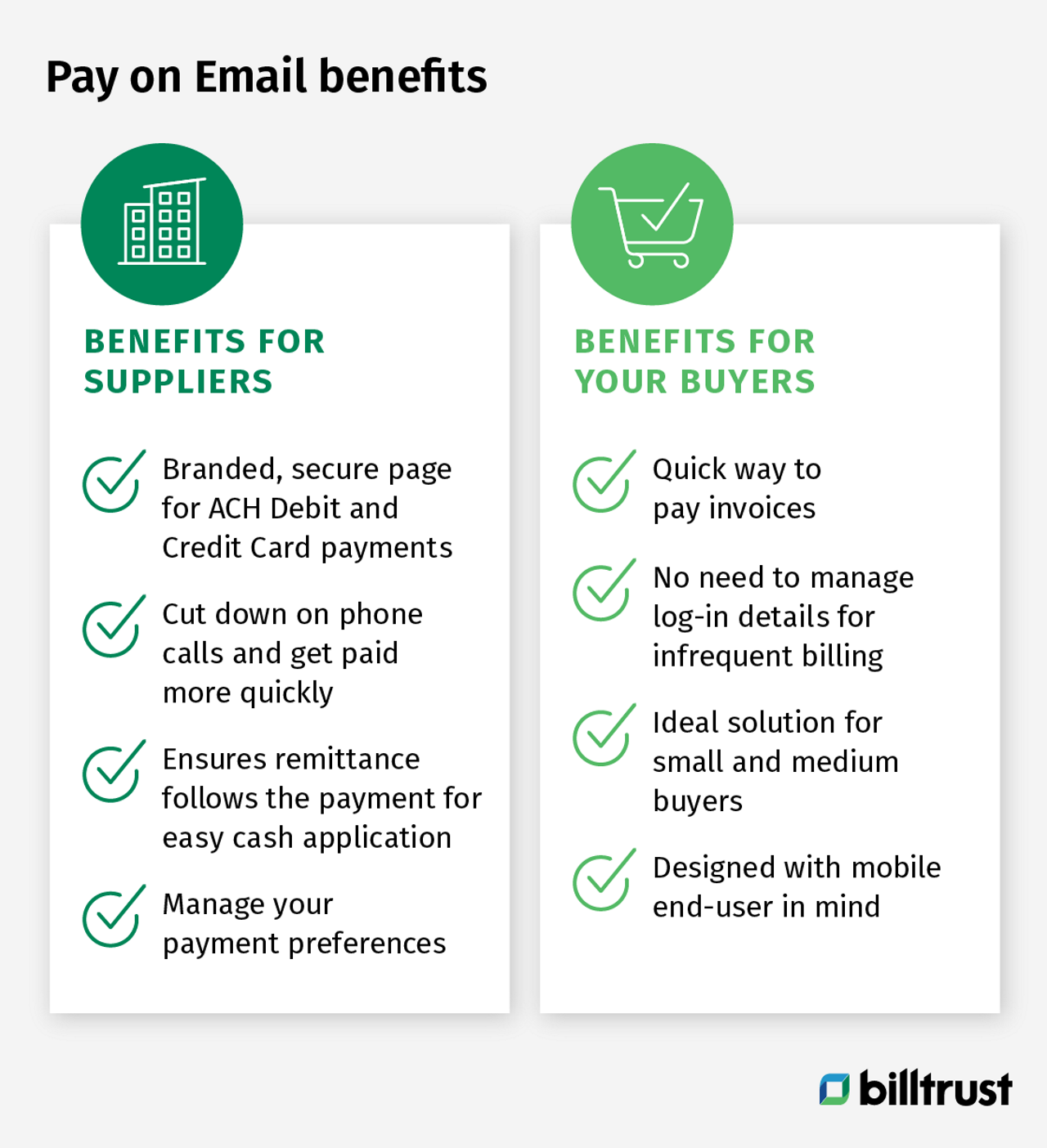 It's often been observed that that B2C commerce experience is more intuitive than the B2B experience. The strides made by Venmo and PayPal have given B2B payment facilitators a lot to think about. B2B payments are certainly more complicated, which helps explain the difference, but with Pay on Email, Billtrust is enabling our customers to give their customers a better experience.
Pay on Email makes it quick and easy to pay for items online. In many ways, it is equivalent to the "guest checkout" option on consumer eCommerce sites. There may be a benefit to creating an account with a vendor and ordering through it, but often we just want to make a fast, one-time payment as a guest.
Now, your customers will always have the option of making an electronic payment that is convenient and secure for them and seamless and quick for you. Pay on Email's introduction to the larger Billtrust order to cash suite is a win-win for you and your customers.
To learn more about Pay on Email and how it differs from eInvoice connect, reach out to Billtrust.