Billtrust is going global – and we're getting there by staying local.
The rate of globalization amongst businesses has been steadily increasing. Improvements to transportation and communication technologies have made globe-spanning economies of scale both possible and common. Many of our U.S. customers are already doing business internationally and many more will be moving toward global business models in the coming years.
When Billtrust acquired iController, a Belgium-based collections management solution, we made the reasons for our global expansion clear. We are expanding internationally to both access a new customer base of internationally headquartered businesses and to better serve our U.S. customers as they do business internationally.
Global business, local service
Billtrust has led the U.S. market in accounts receivable (AR) automation and payments solutions for 20 years. Our success amongst U.S. businesses has been built on robust development teams, top-line sales and customer service and hard-won market expertise. As we expand our offerings to international customers, and work to help our U.S. customers serve their international clients – we know we need to bring the same level of everything to the table. Acquisitions of market-leading companies like iController help us do that.
iController has gone through their own growth journey in the European market and they've created top-of-the-line development, sales and customer service teams of their own. Those teams are now Billtrust teams. And the European-market expertise they've forged is now available to our U.S. customers as they seek to do business abroad.
That local expertise will help our U.S. customers get paid faster. Multiple factors are going to add up to faster cash:
Localized compliance to avoid slowdowns
Customer support fluent in local languages
Local assistance with communications and content creation
Creating confidence in globally expanding operations
Billtrust has grown because we give finance teams confidence. By automating manual tasks, reducing errors and giving financial leaders more strategic control of their cash flows, Billtrust has become an integral part of many of America's best businesses. As we grow internationally, we can offer our customers that same confidence in their global growth journeys.
The same Billtrust cash flow solutions that made doing business in the U.S. easier and more efficient are now benefiting from internationalization. Our new international development teams, product leaders and service organizations are infusing Billtrust's AR automation and B2B payments technologies with new capacities.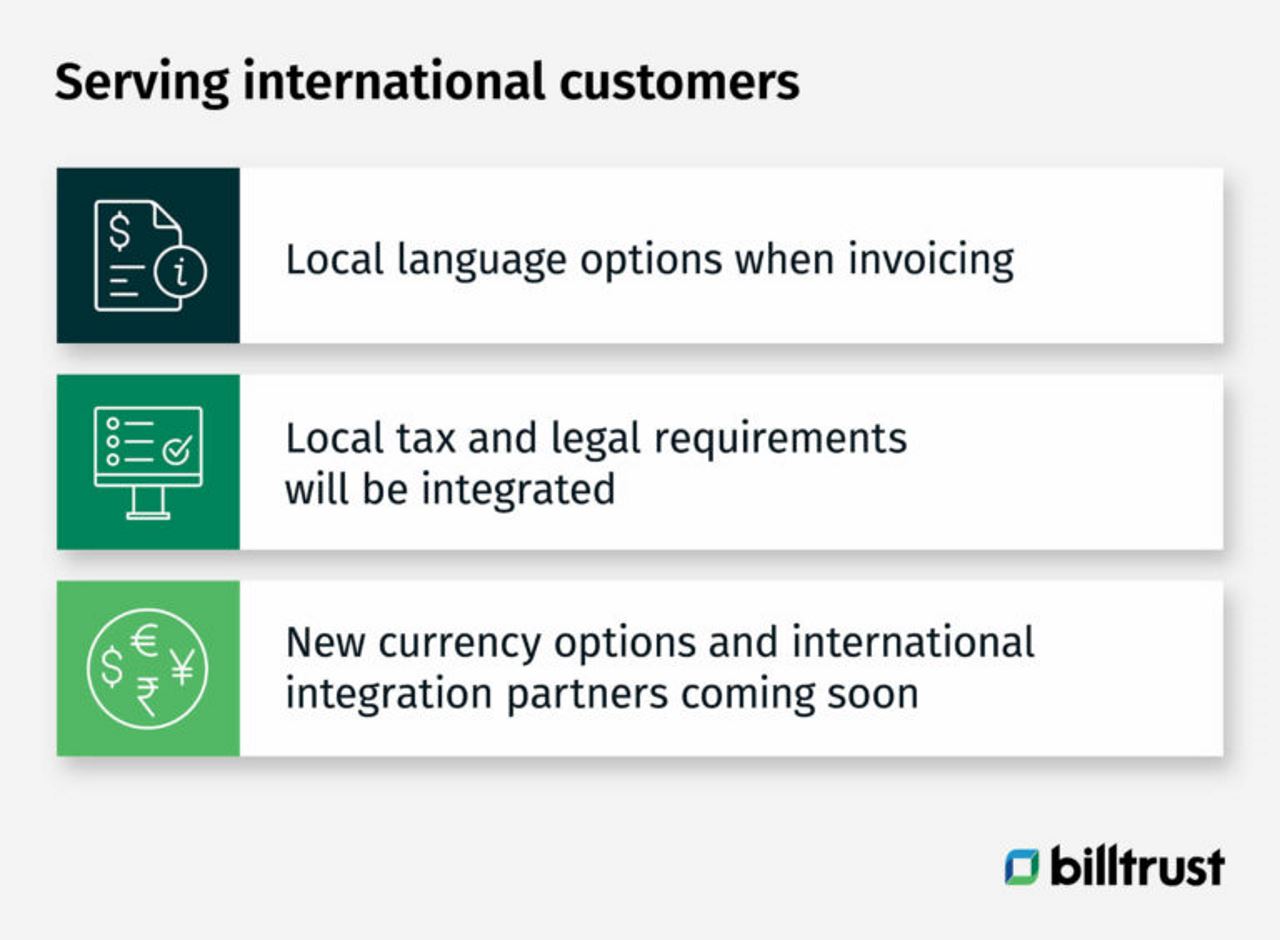 Our U.S. customers will be able to serve their international customers using local language options when invoicing to ensure clarity in communications. All local tax and legal requirements will be integrated. New currency options and international integration partners are coming soon.
We're energized for a global future at Billtrust, but our philosophy will always be the same: serve every customer locally.
If you'd like to learn more about how Billtrust can help you serve your customers, wherever they are, please fill out the contact form and an expert will get in touch soon.