There's no denying that accounts receivable (AR) is in the midst of a profound transformation. It's an evolution being powered by modern technologies, systems, processes and, let's not forget, human expertise.
It's aimed at driving operational efficiencies, shifting resources to higher-value activities, lowering costs, achieving competitive advantage and, first and foremost, accelerating how quickly a company gets paid.
But where does accounts receivable really stand in terms of embracing that evolution? Mitchell Rose already touched on how, to gain a deeper understanding of the real state of AR, we commissioned Paradoxes, Inc. to conduct an extensive qualitative and quantitative research study, The State of Accounts Receivable: The Journey to Modernize.
Who were the respondents? Along with dozens of in-depth interviews, an online survey of 367 senior AR leaders was fielded in organizations with more than 125 employees and between $50 million and $10 billion in revenue. This provided an excellent overview of how AR is evolving at mid-sized and enterprise-level companies.
We discovered fascinating insights that supply compelling food for thought for company leadership as they consider the state of their own AR operations.
The current state of AR
Nearly half the organizations surveyed indicated they send an average of 10,000 to 25,000 invoices per month. Accounts receivable teams spend the most time on cash application and reconciliation, credit, collections, payments and invoicing.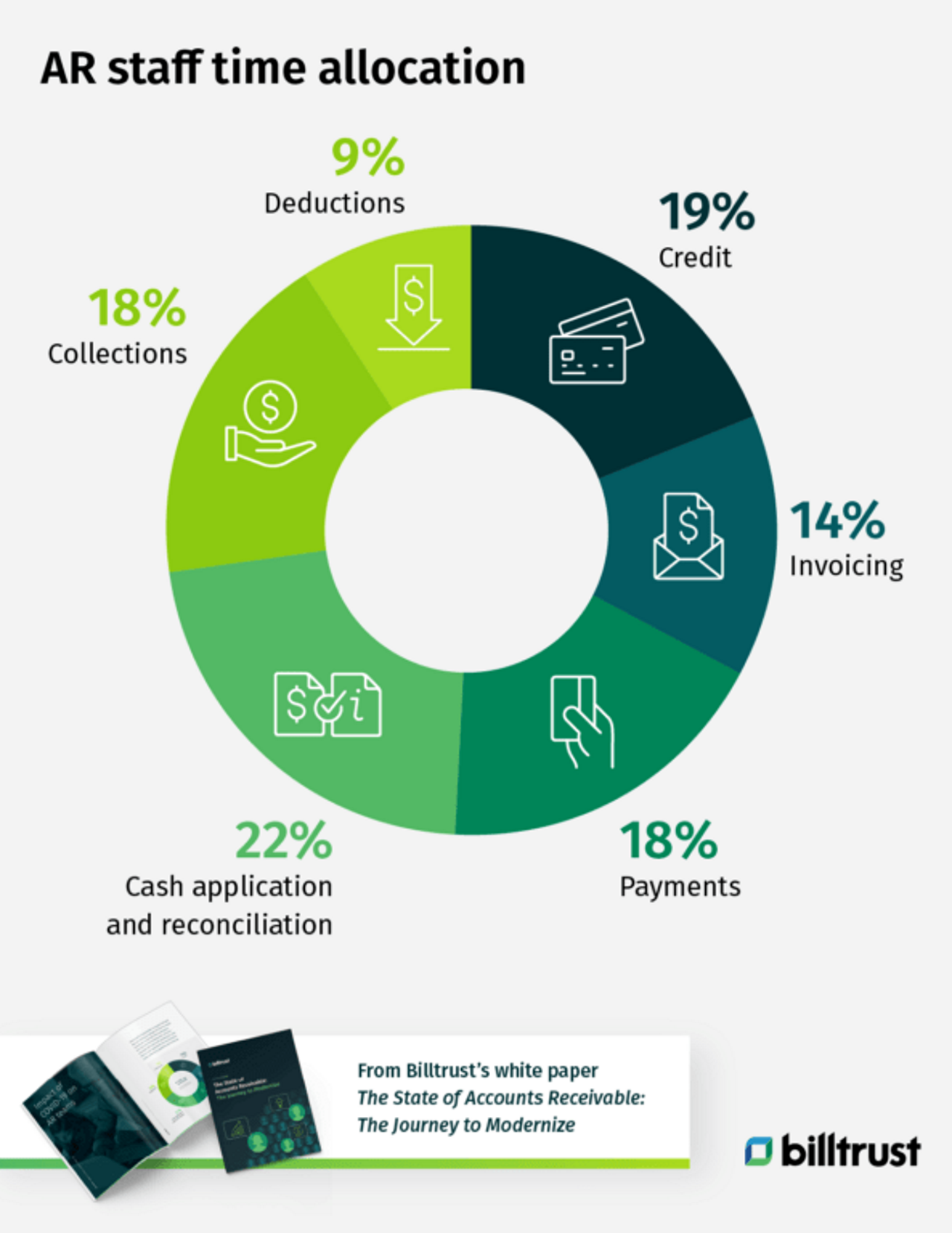 Some of the most prominent pain points?
In terms of system and tools:
Lack of integration
Too many manual tasks
Insufficient self-service capabilities for customers
High credit card costs
Manual support of preferred customer billing and payment options
Insufficient reporting and insights
Integrations with AR tools:
Dealing with legacy technology
The proliferation of payment options
Lack of consultants/internal knowledge and a belief that what they have is "good enough"
On top of these obstacles, one of the biggest challenges for today's teams is interacting with the growing proliferation of accounts payable (AP) portals.
AP portals are creating new demands that are straining AR teams, increasing manual tasks, and taxing IT teams by requiring new technology integrations. AR teams have to interact with an average of 11-20 AP portals and be proficient with 11-15 AP portal brands. More than a third of our respondents consider customer AP portals to be frustrating.
To mitigate AP portal proliferation, AR teams are building integration solutions (both in-house and using vendors) to reduce the impact on their teams. Over half of the respondents are using either their own IT organization to build integrations or using AR SaaS vendors with pre-built integrations.
The impact of COVID-19
Naturally, no study like this would be complete without an investigation into the impact of COVID-19. It had a significant impact on AR teams, with the shift to remote work having the most widespread effects.
However, there has also been an increase in pressure to extend payment terms, an increase in bad debt/risk, the need to learn new tools and systems, increased use of e-invoices, a slowdown in cash flow and increased workloads.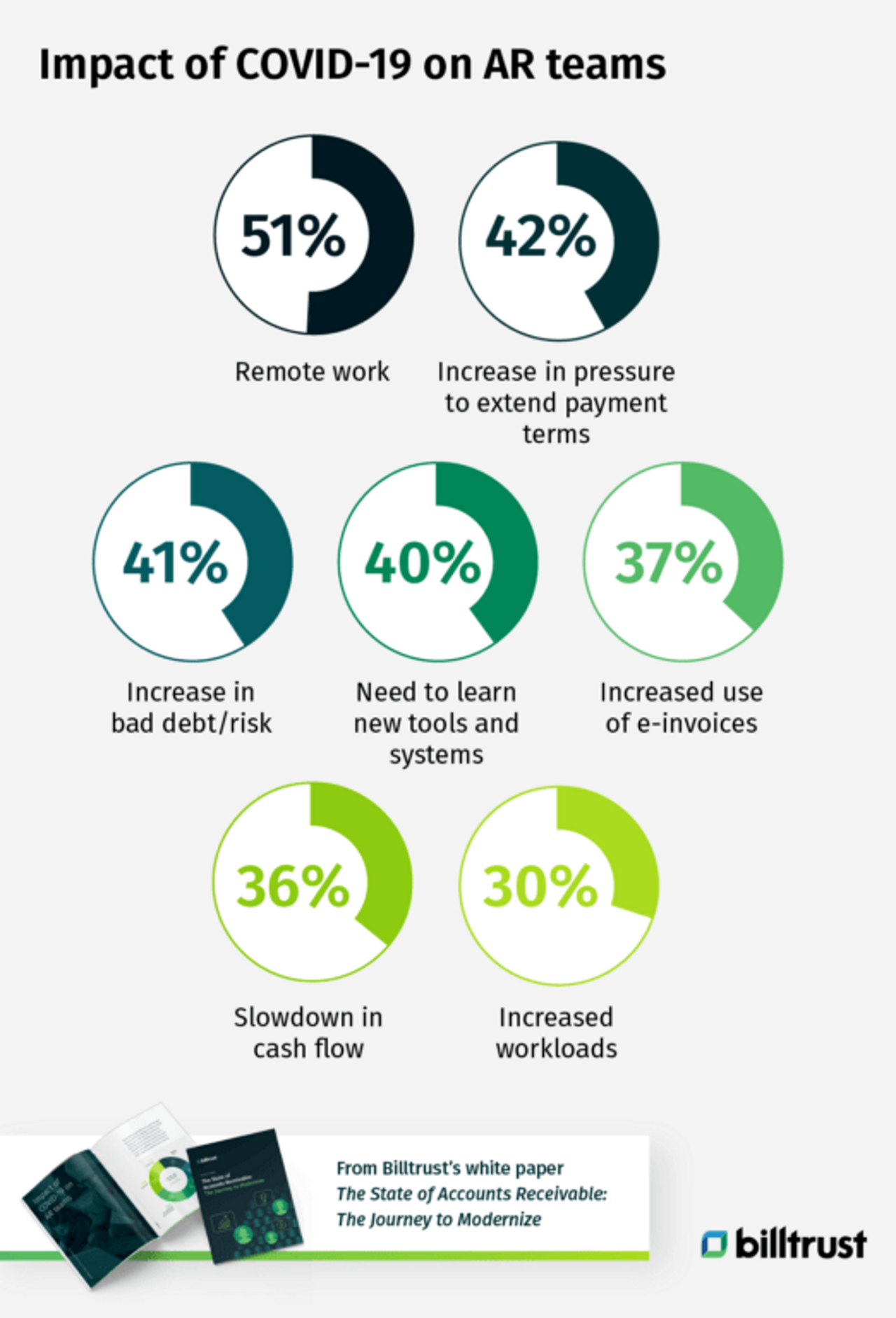 The current state of payments
A significant share of AR activities are focused on payments and the tools and processes companies use to manage various payment types. Of course, some payment types are more efficient and cost-effective to manage than others.
The most preferred types of customer payments in 2021 were via credit card and ACH/wire transfer, with paper checks as the least preferred payment type. Yet, surprisingly, 15 to 20% of customers are still using paper checks and cash for payments. So there's a vital role for technology in helping shift these customers to modernized payment methods.
A dangerous illusion
When asked about the tools used to perform their work, most AR teams believe they are modernized and efficient. They use words such as 'reliable', 'innovative', and 'efficient' to describe their existing AR systems and processes. A significant 86% rate their department as very or somewhat modernized.
Many AR teams feel they are modernized because:
They're able to provide their customers full-service capabilities to view invoices, credit limits and make payments and access historical account activity
They have fully automated integrations with customer AP portals for submitting invoices and retrieving payment remittance
They have real-time integrations between their AR and ERP systems
The majority of payments and invoices are digital
However, there are numerous contrary indicators suggesting AR departments are not as modernized as they think they are:
Over 40% of AR departments do not offer self-service capabilities
Over 50% do not have real-time integrations with their ERP systems, nor do they have automated integration with their customers' AP portals
Over 60% do not have a majority of their payments or invoices as digital, with nearly 30% of payments still being cash and paper check
A dismal 25% of executives see their AR departments as a strategic partner in the business, and only 18% see them as an innovative finance function
A whopping 60% see their current AR systems and processes as frustrating, driven by lack of integrations between processes, internal tools and external tools/ dashboards; too many manual tasks, insufficient self-service capabilities for customers, inefficient processes/workflows, poor user experiences for AR teams, outdated and slow technology, human error and high operating costs
What does this mean? That AR teams' perceptions of their own departments largely fail to match reality. This is a dangerous place to be. So accepting that there are tools to help better your processes and team performance is an essential first step to truly optimizing outdated accounts receivable (AR) operations.
While the digital transformation may be underway, finding and implementing the right technologies, tools, and systems for your specific needs is key to true modernization.
To get the complete range of insights contained in the report? Download it here.
Next: Uncover the surprising future of the CFO

At the upcoming Billtrust Insight 2022 conference, we'll be revealing the results of a new study about the CFO's Office of the Future. Many of the insights are going to be eye-openers, as we cover everything from whether an MBA degree is still mandatory to why a "horizontal mindset" is important to the next generation of financial team leaders.