The AP organization has the money and the AR side wants it. So, naturally accounts payable (AP) gets to set the terms of the transaction.

That's the simple explanation for what's been happening in the payments landscape over the last five years. AP organizations have continuously innovated and pioneered new ways to make paying their bills easier, cheaper and more rewarding.

And AR teams have struggled to keep up.
The two most impactful innovations on the AP side have been the increased deployment of virtual credit cards and AP portals. With these two technologies combined, AP organizations can achieve straight-through-payments.
And they're not going back. The annual US growth rate for virtual card spend is predicted to be 24% over the next four years. And more and more buyers (not just the big ones) are deploying AP portals.
But AR organizations don't need to suffer under these new conditions. With proper tooling, accounts receivable (AR) can take advantage of the digital nature of virtual cards and AP portals and achieve their own straight-through-processing and, even better, straight-through-posting of payments.
Quick Primer: What are virtual credit cards and AP portals?
Virtual credit cards are one-time-use payment tools that your buyers love. They have many advantages including the security that comes from being single-use and authorized for a specific payment amount to a specific buyer. They come with rebates and give your buyers more insight into their spending.
But the number one benefit of virtual cards for your buyers is the float they get from transferring their payment obligation from you at the invoice due date to their card issue at the date when their credit card bill is due.
AP portals are online payment platforms that require suppliers to log in and enter invoices they want paid. These portals reduce much of the manual work of invoice processing for buyers and give them more control over when and how they make payments. They were initially only implemented by large buyers, but market leaders in the space like Coupa are deploying AP portals to more and more businesses of all sizes.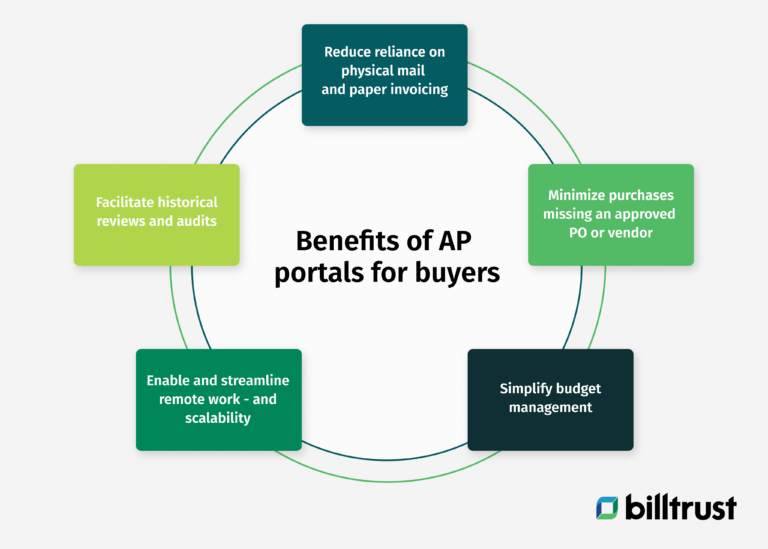 A burden or benefit for AR?
Without the proper tools, virtual credit cards and AP portals create problems for AR. These portals require AR teams to maintain credentials and manually log into portals and enter invoices. That's a lot of work. And to view invoice statuses and correct exceptions requires even more logging in. Multiply this across an entire customer base and AR teams will be longing for the days when they could just send out invoices to a business address.
And the virtual credit card payments that AP portals tend to generate are executed primarily through email. That means that email inboxes are filling up with emails that need to be manually opened and read by an AR professional who then needs to process the card number (usually manually) and record the remittance information.

The previous two paragraphs are stories of digital information that was generated automatically on the AP side but manipulated manually on the AR side.
Billtrust offers AR the tools to change the story.
Automated invoice delivery, status updates and exception handling
Billtrust can deliver invoices to all of your customers' AP portals automatically. Just give us your daily Open AR file, and we'll do the rest.
Then, you can monitor the status of all of your delivered invoices in a single portal. You can spot exceptions and make corrections. You can see when an invoice is approved and marked for payment.
And the manual work of logging into dozens of portals to input and check on invoices is gone. It's all in one place. Your AR organization will finally be benefiting from your customers' investment in AP automation.
And what about those emailed virtual card payments? We have a solution for that, too.
The digital lockbox
You're used to customers sending paper checks to your bank's physical lockbox where they're opened, read and processed. But Billtrust now offers a digital lockbox for your digital payments.
It's an email inbox, where your customers' emailed virtual card payments (and ACH payment notices) will be sent or rerouted to. But Billtrust technology will open and read the emailed payments and remittances for you. We automatically process the credit card payments and send the remittance from both card and ACH payments to your ERP or cash application solution.
And it's all touchless. Another AR win made possible by the investments made by AP organizations.
But what about the cost of card acceptance?
In the previous section, we outlined how suppliers can straight-through-process and (with a cash application solution) straight-through-post virtual card payments. That's not possible with check payments.
Straight-through processing and posting massively reduces a supplier's DSO and rapidly increases cash flow. They also reduce the labor costs associated with processing and reconciling payments.
The math is going to be a little different for everyone, but we've prepared a chart using example data that can be useful in comparing the cost of virtual card fees with the cost of term.
There are three aspects of term that we're considering in this chart:
The opportunity cost of not investing capital that is tied up in term
The cost of collecting payments
The cost of inflation that occurs during term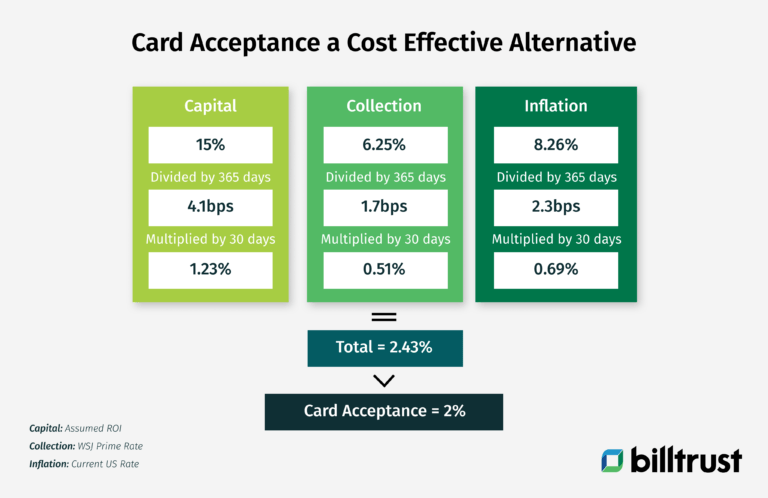 The bi-lateral benefits of card acceptance
One of the best reasons to accept card payments is time-shifting the date of payment for both the buyer and supplier.
As a supplier, you can demand earlier payment in exchange for accepting a card payment, speeding your cash flow and reducing your days sales outstanding (DSO).
But simultaneously, when your buyer makes that earlier payment using a card, they are transferring their payment obligation from you to their card issuer, allowing them to actually make payment to that issuer later than they would have done for you, extending their DPO without compromising timely payments.
It's kind of a beautiful thing.
Card's supplier value summarized:
Credit tool: an alternative to term that can make transactions happen faster
Operational efficiencies: data exchange and automation
Customer service value for both sides: extending DPO for customers without compromising timely payments
Tax benefit: cost of credit is a tax-deductible business expense
Credit risk reduction: burden shifted to the card issuer
Security: keep your bank details private
Where are you in this story?
If you'd like to learn more about the evolving technologies and practices driving improvement on both the AR and AP side, you'd benefit from watching Coupa and Billtrust's recent webinar, Simplifying Virtual Card Acceptance with Straight-Through-Processing.
You'll hear directly from innovators at each company and get more insights into how your customers are using Coupa's solutions and how you can benefit from Billtrust technology.
Speakers:
Lesley Taylor, Sr. Director, Global Supplier Success
Darren Blair, Sr. Director, Coupa Pay Partnerships
Murray Sharp, VP, Channel Sales and Business Development at Billtrust