What is the cash application process?
The cash application process involves matching incoming payments to their corresponding invoices and accounts. Check, ACH, wire and credit card payments are reviewed and then matched to open invoices and those invoices are marked as paid.
Let's take a closer look at how the cash application process works, as well as how streamlining it can be beneficial for your business.
Cash application is complicated
One of the most important things to understand about cash application is that no two companies follow the exact same process. A variety of factors can play into the cash application process, such as number of customers, the quantity of invoices, the delivery methods used to send invoices, payment methods and more. As a general rule, however, the process involves going through a handful of steps before coming to completion.
These can include (among others):
Setting up accounts for new customers.
Receiving payments for products and/or services rendered.
Entering payment information into the appropriate software or database.
Reconciling bank accounts.
Investigating any payment discrepancies that are discovered.
Manual vs. automated cash application
There are essentially two ways in which the cash application process can be performed—manually or automatically. With a manual process, a cash application specialist or accounts receivable (AR) staffer goes through each payment and remittance, matching them with their associated invoices by looking at the customer name and number printed on the invoice. This information is then posted to the company's ERP and repeated for the next customer.
The manual approach is labor-intensive, time-intensive and is not easily scalable. Additionally, there is room for human error.
Cash application automation is becoming more common. Cash application automation not only helps to cut down on the amount of time the process takes, but it can also greatly reduce the chances of human error. The more complex the cash application process becomes for an organization, the more pressing the need for automation will be.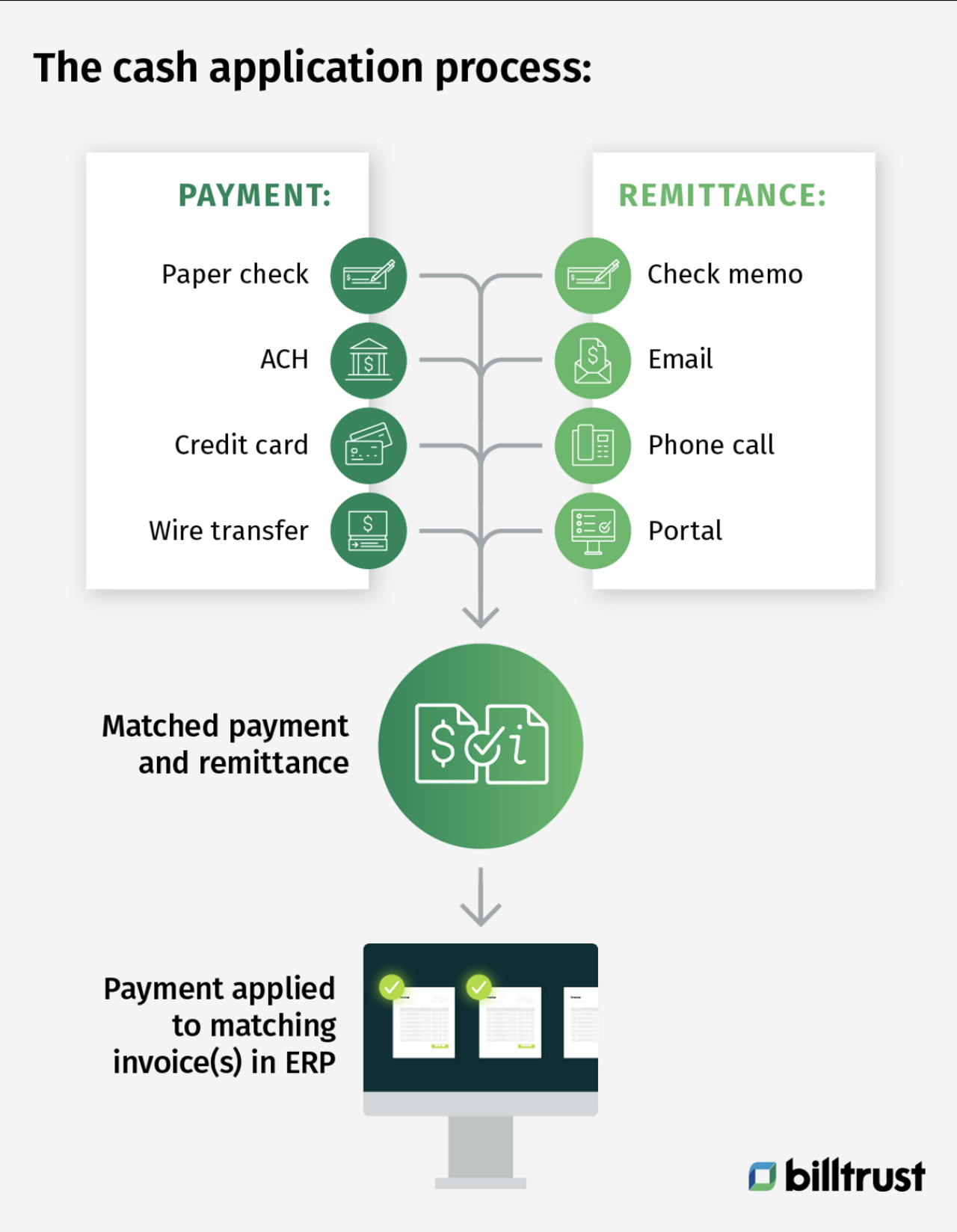 The benefits of automation
Automated cash application is faster.
The faster payments are matched to invoices, the more quickly a company can use that cash for business expenses.
As soon as an invoice is marked as paid, the customer's credit is replenished and they can buy more.
Automated cash application is smarter.
Manual cash application errors can lead to negative customer experiences and disruptions to cash flow. Automated cash application greatly reduces error.
Automated cash application can help a company open up more payment channels more easily, helping them meet their customers' payment preferences.
Automated cash application is scalable.
Automated cash application allows companies to be flexible in their payment acceptance policies. If market conditions are pushing customers to want to pay with credit cards for example, a company with automated cash application can easily accommodate their customers.
Companies with automated cash application can serve their growing customer base while capping their accounts receivable (AR) cost structure.
The bottom line: automate your cash application process
For accounts receivable professionals, the cash application process is often associated with headaches, frustration and dead ends. Much of this comes down to the fact that many companies are still handling cash application manually, which is now an antiquated methodology. Billtrust offers accounts receivable solutions that can be scaled to fit your business perfectly, including cash application automation and BPN.
Don't go at it alone in the cash application process — fill out the contact form to learn more about how we can help you.