Billtrust provides a global solution that is flexible, transparent and seamless for paper customers who are ready to make the transition to electronic delivery — all while future proofing invoice presentment.
Email delivery
Print & mail delivery
Electronic invoice delivery
Channel delivery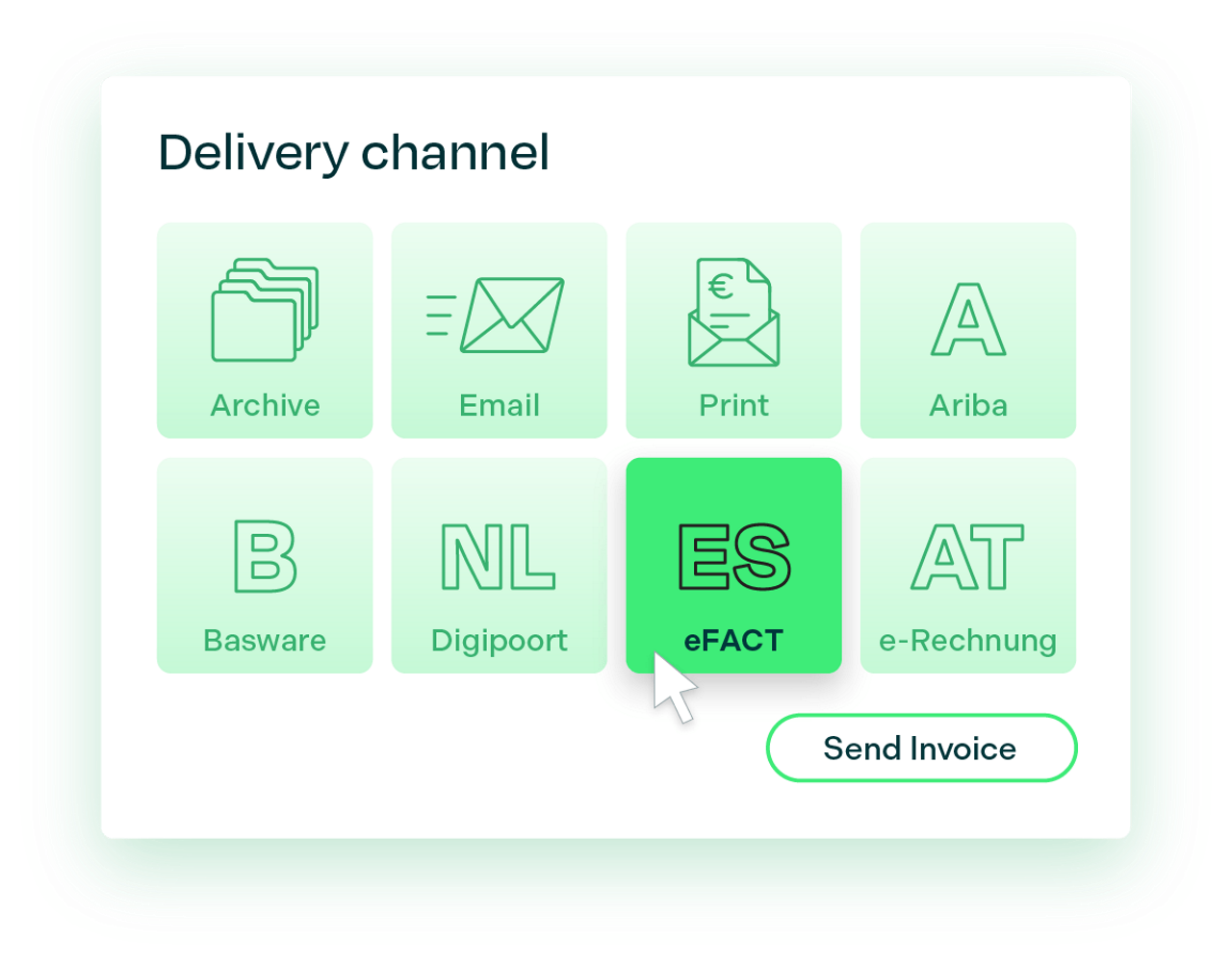 Invoicing is a critical component of cash flow and also a source of frustration for many accounts receivable (AR) teams. It comes in many forms, through multiple channels and often with a host of requirements.
Invoicing preferences also vary, but no matter which delivery channels your customers choose, they all require dedicated time and effort to manage and process invoices. The good news is that ensuring you get paid on time or sooner — regardless of payment channel — can be as simple as changing the invoice experience.
With Billtrust Invoicing, you can cut and control operating costs — and free up staff for business-critical work — while simplifying invoice presentment and giving your customers the flexibility and efficiency they need. Most importantly, it leverages the most accurate data available – stored in your ERP system. Billtrust Invoicing automates and accelerates invoice delivery for you locally and around the world. No matter how your invoices need to be sent — whether by email, print, AP portal, e-invoicing network or tax agency — your accounts receivable teams can leverage a single platform to send them in any format and through any channel.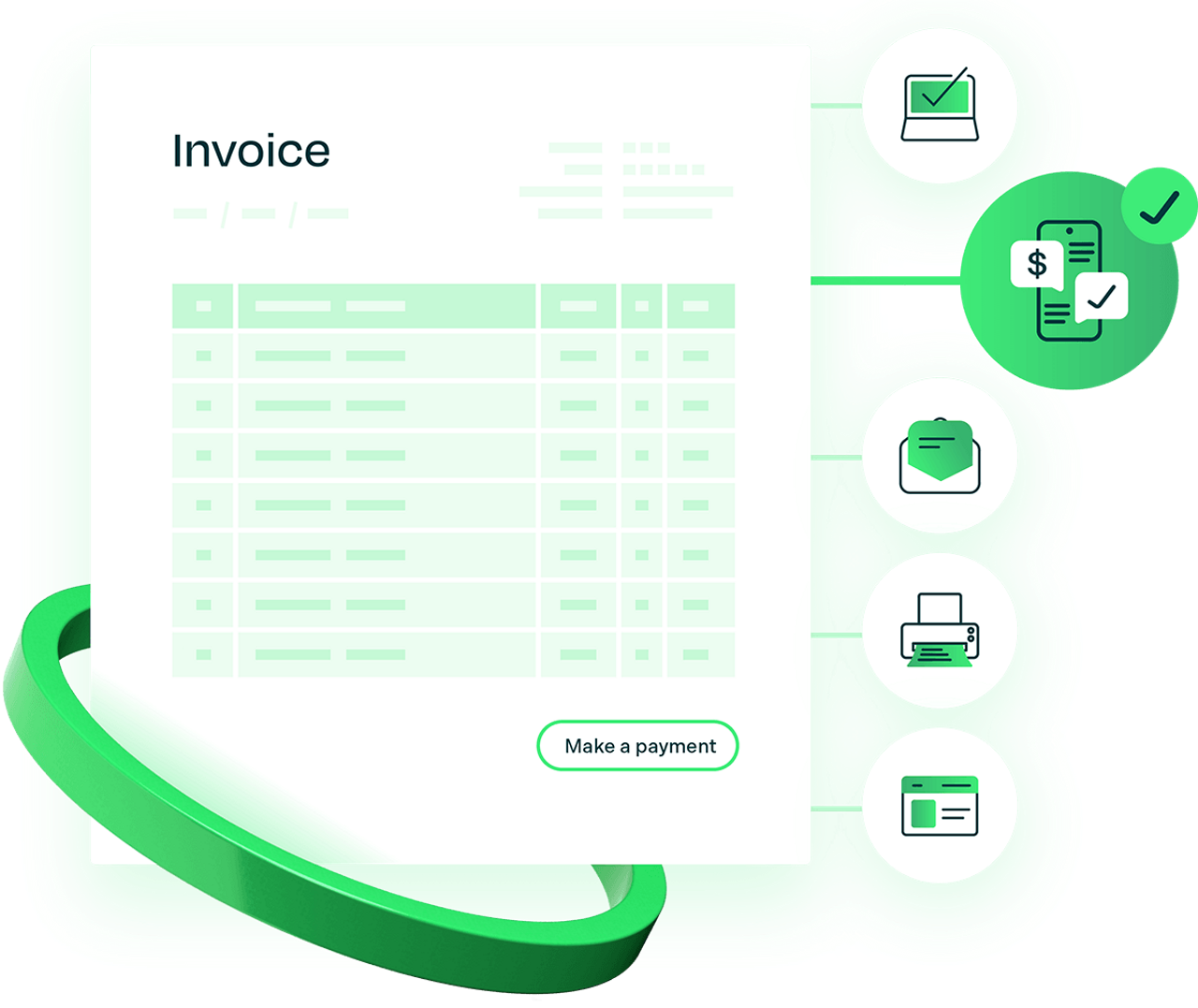 What you can do with Billtrust Invoicing
Replace manual processes with automation
Automating and accelerating invoice delivery with Billtrust Invoicing streamlines the entire billing and payments continuum, relieving the demands placed on your team while freeing up your cash flow.
Streamline AP portal processing
Delivering invoices via integrations with 190+ leading accounts payable (AP) portals saves your AR team the long hours, expense, and frustration of navigating each one and manually keying in invoice data.
Reduce invoice printing and mailing costs
Despite the paperless invoicing trend, there will always be customers who prefer hard copy. Outsourcing paper-based billing to Billtrust can save on high in-house printing, equipment, and postage costs.
Provide e-invoicing interoperability and compliance
Doing business in another country? Many governments require electronic invoicing for B2G and even some B2B transactions. Billtrust has created global connections with all major AP portals, international e-invoicing networks and tax agencies, saving you labor-intensive effort and expense.
Invoice management portal
Provides your AR team with visibility into open balance invoices, empowers your staff to track delivery of paper and electronic bills, and allows teams to resend bills and run reports all within one streamlined location. This brings new levels of transparency across invoices and better customer experiences, enabling your team to get paid faster.
Invoice Delivery Solutions
Channel Delivery
Tailored, multi-channel invoice delivery
Flexible, efficient, transparent and seamless invoice management across channels including AP portals, B2G and B2B
Eliminates the need for AR teams to dedicate hours to keying in data or maintaining complex, custom solutions
Optimizes customer invoice management and send invoices to 190+ AP systems automatically based on customer preference
Email Delivery
Deliver branded, custom emails to your customers automatically
Easy Import gives you the ability to attach replica PDF invoices as well as CSV, QuickBooks and other accounting package file types to every email you send
Send automatically generated payment reminders and past due emails
Easy enrollment lets customers pay their emailed invoices through your online portal quickly and securely
Electronic Invoice Delivery
A secure, branded and fully-managed online portal for presenting and viewing invoices via eInvoice Connect
Customers can research documents by key criteria, including data, amount and PO number and download them as PDFs or directly into their accounting package
Multi-language support combined with international payments capabilities for a localized experience
Print & Mail Delivery
Increase buyer adoption.
Design and execute effective, email and telephone campaigns that encourage your customers to convert from manual in-person, phone and paper processes to electronic alternatives
Billtrust offers a multi-pronged approach to invoicing that include streamlined print and mail services through North America and Europe
Through automation and expertise, we help you save money and time while tracking paper invoices and remit mail payments
Customized with your logo, dynamic messaging, dual barcode technology and more, printed invoices can, surprisingly, become the first big step towards transitioning your customers to digital
Billtrust Invoicing by the numbers
Over $1T invoice dollars processed
190+ AP portals invoiced
$77B+ payments processed
Seamless, global outbound e-invoicing
Global e-invoicing compliance
Process high volumes of invoices in seconds
Reduce print and postage costs
Eliminate lost invoices
Consolidate AR across business units
Integrate seamlessly with customers
Eliminate manual processes
Shorten your DSO
Improve customer service
Reduce costs
360º visibility with dashboards and reporting tools
Research customer invoices and history using a variety of search criteria and view exact copies of PDF invoices
Email or fax copies of invoices to customers with one click
Track the processing and delivery of each and every invoice whether sent by paper or electronic
View dashboards and run reports that provide insight into your entire invoice delivery process, from company-wide electronic adoption rates to individual branch invoicing reports
Easily upload and tailor messages to be displayed on paper and PDF invoices