Over the past couple of years, we've witnessed B2B digitization rapidly accelerate across industries as a variety of factors have increased the need to shift business online. This digital embrace has allowed organizations to eliminate brick and mortar barriers while replicating the ease of consumer digital experiences. It also opens the opportunity to provide greater value with data that helps their buyers do their jobs better.
Let's examine the 3 key pillars needed to create an effective ecommerce presence and how teams can use them to build stronger relationships with their customers. But first, let's take a quick look at the state of B2B ecommerce today.
Common Barriers to B2B eCommerce Adoption
While consumers around the globe have welcomed online shopping, the B2B world has been slower to adopt. There are a number of reasons for this, including inertia, as well as the anxiety that can be present when making large orders online. Additionally, sales teams can have concerns around the potential impact that adopting an ecommerce strategy will have on their roles. This includes questions such as "Am I really needed if my customers are making purchases online?" or "How can I maintain these long-established relationships through ecommerce?"
However, the truth is that an effective ecommerce platform can not only accommodate the unique needs of buyers at scale, but it can also strengthen the role of sales teams. This is exactly why the B2B ecommerce space is experiencing such rapid growth today, with some projections that global B2B ecommerce could reach $20.9 trillion by 2027 and Billtrust eCommerce data showing that B2B web sales increased 463% from March 2020 to March 2021.
For suppliers and their marketing teams, creating a digital storefront that gets you in your customers' back pocket 24/7 is only half the battle. Driving adoption and expanding market share is the key to long-term success. With the right approach, teams can make their webstore home base for their customers.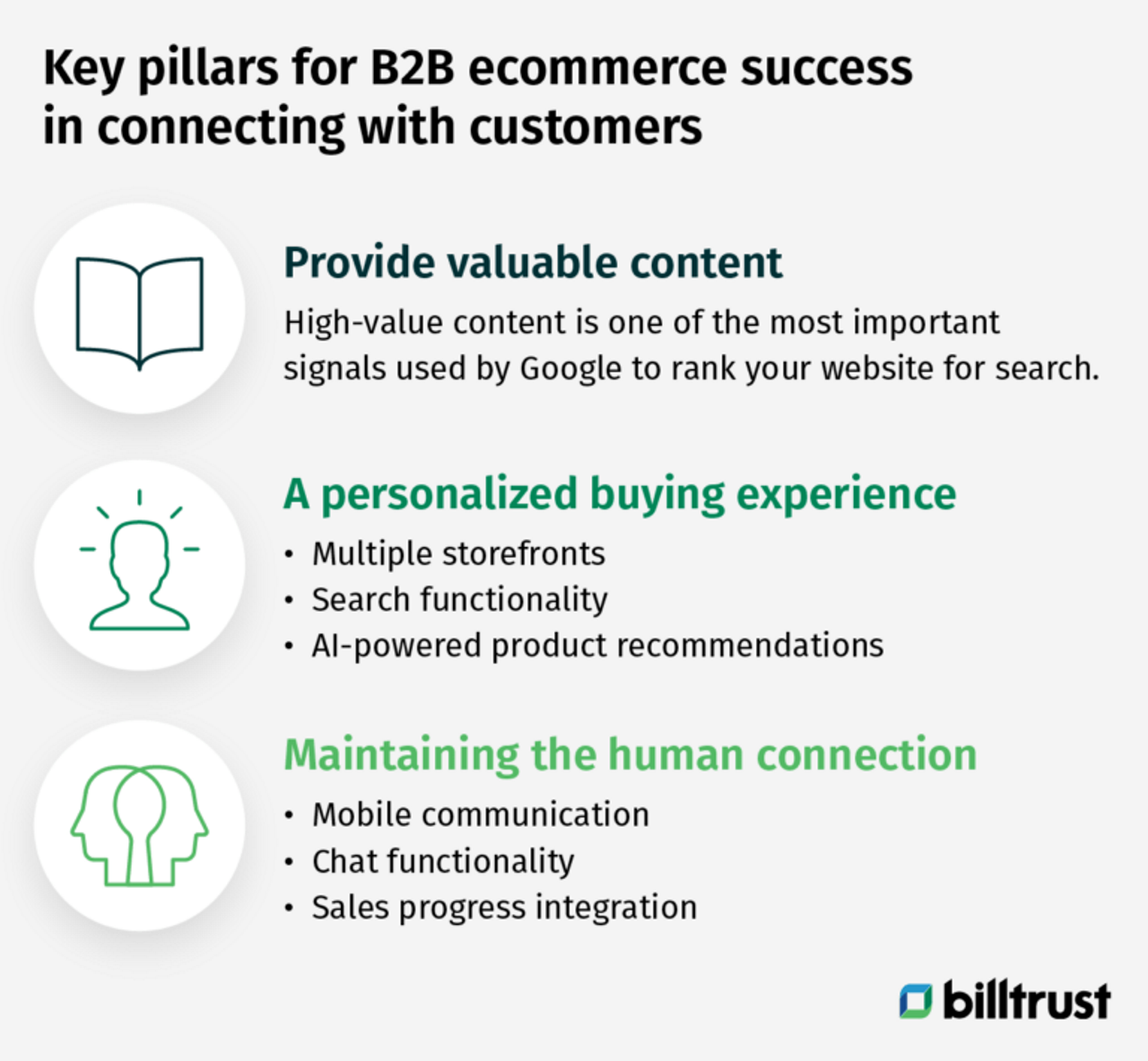 Key Pillars for B2B eCommerce Success in Connecting with Customers
Provide Valuable Content
Competition online is fierce. One of the best ways to stand out is to consistently provide quality content. In fact, high-quality, high-value content is one of the most important signals used by Google to rank your website for search.
For distributors, quality content can include everything from product descriptions and real-time inventory updates, to helpful blog posts or videos that empower your customers to make the most of what they purchase from you. A secondary benefit of producing this type of content on your ecommerce presence is SEO (search engine optimization). Effective SEO means more people will see your content increasing awareness of your product offerings and ecommerce capabilities. SEO is a powerful tool — which is why 70% of marketers see SEO as more effective than PPC (Pay Per Click) advertising.
A critical element to reaping these benefits is a platform that allows for quick, easy and flexible publishing of content. The ability to create content, and connect it to products and services, will ensure that customers and prospects return to your site as a resource where they can easily find the answers, products and services that they are looking for.
At the end of the day, quality content that conveys a deep understanding of your products and how they solve the challenge your customers face not only increases their confidence when making a purchase, but it also shifts their perception of you from being simply a supplier to being an industry thought leader and partner in their business.
A Personalized Buying Experience
When purchasing as a business or a consumer, customers want to feel seen, heard and understood. This is why 67% of B2B buyers reported switching to vendors that offer a "more consumer-like" experience. Just as Amazon serves up recommendations based on its understanding of customers, to be truly effective, B2B ecommerce platforms should replicate this type of personalized customer experience. Great B2B solutions help you identify customer segments and understand them even better. To meet these ever-evolving expectations for personalization, teams should identify a digital ecommerce platform that provides the following:
Multiple Storefronts
For enterprise accounts that may have various buyers with different needs, providing multiple storefronts will give each buyer a personalized experience for everything from recommended products to content.
Search Functionality
Customers should be able to easily search for products and helpful content. If different customer segments use different words or terms, ensure that each "language" can be easily searched so every customer can find what they are looking for.
AI-Powered Product Recommendations
Automating personalized recommendations creates a frictionless experience for customers and sales team members. An AI-powered platform will "learn" about each customer through their interactions, making it easier for them to do business with you every time.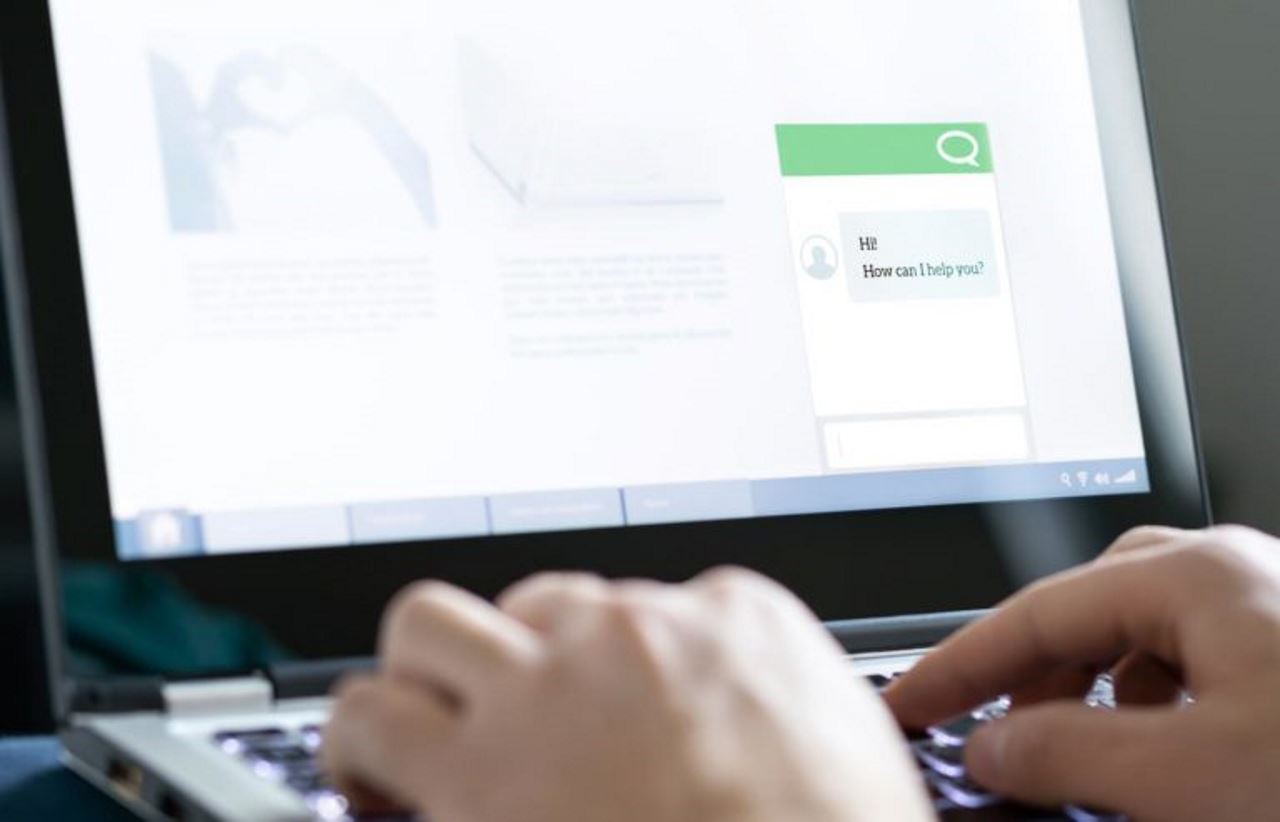 Maintaining the Human Connection
Traditional sales processes historically involved person-to-person interactions that were built on relationships cultivated over a long period of time. And while this process is largely shifting into the digital realm, it's still possible to maintain the human element.
With distributed teams, and an abundance of information and resources to sift through, the purchase experience is becoming increasingly complex. With such a wide range of touchpoints, it's easy for friction to pop up along the buyer journey. Integrating human connections throughout these touchpoints builds confidence and ensures your customers don't end up feeling like just another order number.
Here's how your marketing, sales and support teams can help elevate the customer experience:
Mobile Communication
Today's buyers are constantly on the go. Your ecommerce presence should provide a mobile experience that gives them easy access to your offerings and services whenever they need it and wherever they are. This is also where you can reach them more immediately with alerts and notifications.
Chat Functionality
When a customer has a question, you need to be able to address it quickly. A live chat function that connects customers and prospects to real people reduces the risk of customer churn, while strengthening your relationships.
Sales Process Integration
Successful sales teams know how to navigate the in's and out's of their ecommerce presence. They should be able to quickly access information to help customers whether on a phone call, email exchange, webstore communication or on the sales floor.
Today's business landscape is constantly evolving. But one thing that will never change is the need to build strong, long-lasting relationships with your customers. By building an ecommerce presence that provides value to your customers, while also elevating the role of your team, businesses can build loyalty while boosting their bottom line. A true win-win.