Customer experience is more important than ever, and customers expect stellar service throughout all parts of their interactions with your company—and AR is no exception.
You can set your company apart and build loyalty by optimizing your AR processes, tailoring customer communications to specific needs, empowering customers to choose how they want to interact with your AR processes, and helping customers succeed.
Watch this webinar featuring experts from Billtrust and Quadrant Knowledge Solutions, where you will learn:
How optimized accounts receivable processes contribute to better customer experiences.
Communication strategies for enhancing customer engagement and addressing needs.
How personalization with Billtrust's solutions leads to stronger customer relationships.
Speakers: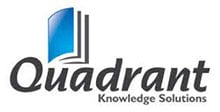 Vishal Jagasia
Senior Analyst at Quadrant Knowledge Solutions
Vishal Jagasia is a distinguished Senior Research Analyst at Quadrant Knowledge Solutions, specializing in fraud, risk, and BFS (Banking and Financial Services). With over 25 years of customer service experience and 16+ years in technical writing, Vishal is a seasoned leader in the field. Vishal provides strategic market research and competitive analysis for the global fraud and risk management sector, and monitors trends in trade surveillance, enterprise treasury, risk management, integrated payments, and more.


Nooshy Irani
Manager, eSolutions at Billtrust
Nooshy Irani manages Billtrust's eSolutions team. This team works closely with customers to build relationships into mutually beneficial and profitable partnerships, with a focus on driving customer satisfaction. With 10+ years of experience, this team has helped hundreds of customers drive buyer adoption and increase the value of their accounts receivable software.