Accounting technology even lawyers can appreciate
Business Services | Legal
Attorneys in your law firm are exceptional at risk management. But they're not always as interested in adapting to new technology — unless you can prove it controls costs and accelerates cash flow.
Billtrust can quickly transform lawyers' long-held perspectives with automated accounts receivable (AR) solutions that enable your firm to provide timely and accurate billing and reconciliation to clients of all sizes. Securely. And with little IT intervention.
Schedule a consultation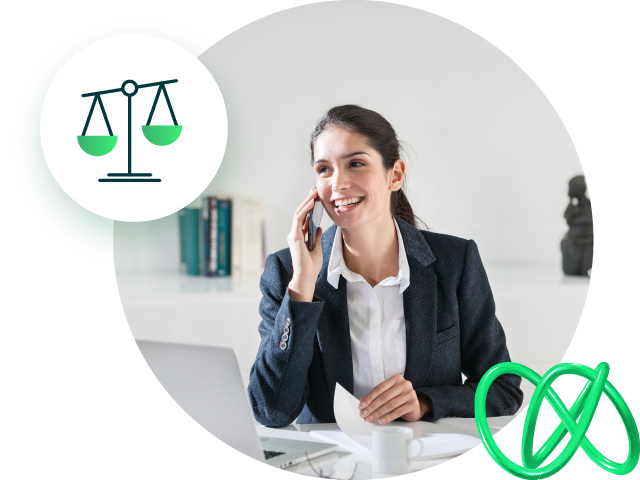 Bring your law firm into the 21st century and keep clients happy
If you're not transforming your accounting processes into a digital, automated contract-to-cash cycle, you're losing time, money — and clients.
As the 2020 ABA TechReport noted, "They expect you to use the latest tools and technology available to handle their legal issues adeptly and efficiently." And they expect outside counsel to offer a business environment they're accustomed to working within. Frictionless, transparent, secure, and user-friendly, like Billtrust:

Maintain compliance with industry regulations
Billtrust solutions are hosted on a secure, cloud-based PCI-compliant environment, making it easy to adhere to federal and legal industry regulations.

24/7 self-service flexibility
Deliver invoices in your clients' preferred format, answer questions and resolve disputes more quickly while reducing phone call volume.

Seamless integration with existing technology
Your Billtrust solution will integrate with any existing enterprise resource planning (ERP) and financial technology platform, requiring minimal IT support and simple onboarding procedures.

Support multi-channel payments
Payments solution supports 24/7 flexibility, enabling clients to pay via ACH, credit card, and more.

Eliminate repetitive, manual keying and invoice/remittance matching for cash application.
From minimizing manual keying errors to increasing payments and cash application accuracy, the Billtrust automated solutions scale your organization's AR functions to meet clients' needs and expectations.
Schedule a consultation
---
"Clients don't expect you to be wrestling with stacks of paper and crunching numbers on a retro calculator … if you're only offering traditional payment options like cash and check, your clients might wonder whether you've kept up with the latest legal developments and processes, as well. These days, running an old-fashioned office doesn't instill confidence."
ABA Techreport
"Getting Paid in 2020: What Lawyers Need to Know"