What type of training plan do you have for your collection agents?
As a Collections Manager, Finance Manager, VP of Shared Services or CFO, do you have a training plan for your Collectors? I remember my first day as a collector. I was able to shadow one of the more experienced reps and watch them work. Then, on the fourth day, I was given a portfolio of accounts and told to start collecting. Does that story sound similar to yours?
I have been in the credit and collections field for over 20 years. The crazy thing is my degree isn't in collections, and I never took a collections class in college.
Collecting is a hard and challenging job. Nobody likes to be told they owe money. Calls can be hostile, and professionals can be very good at creating confusion or using stall tactics. If a collector (or collection agent) doesn't know how to hurdle all the obstacles they come across, they'll waste time on unproductive calls. Each contact with a customer is important, and one thorough collection contact can save you from two to three follow-up calls.
The challenge for new or inexperienced collectors is "they don't know what they don't know." Not knowing how to make a professional collections contact leads to continued back and forth communication to discover issues that could have been taken care of in one contact.
While the process of identifying issues goes on, the invoices age, and the more the invoice ages, the likelihood of collecting on it lessens. So while your collector could be making many contacts a day, they are not being efficient, and not providing you with a good ROI.
Key elements to professional training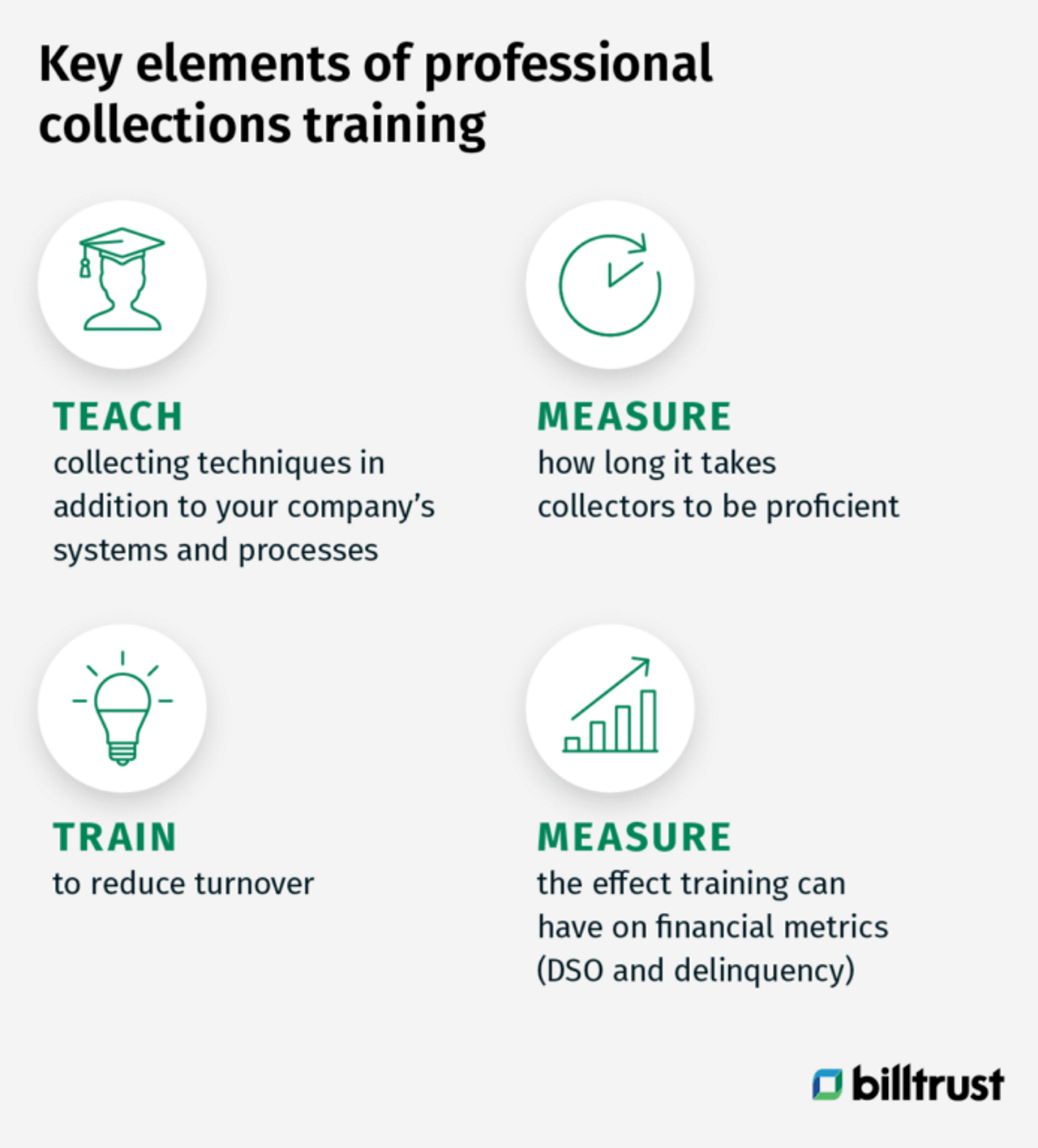 Teach collecting techniques in addition to your company's systems and processes
Learning the systems and processes to do the job is extremely important and needs to be part of new hire training. Whether it's learning your ERP or the Billtrust Collections solution, a new employee needs to know how to use the tools to perform their job. But, equally as important are the techniques and skills to engage customers to make a payment.
Measure how long it takes Collectors to be proficient
Without proper training, I estimate it takes a collector up to a year to be proficient. And in year two, you know twice what you knew in year one. Collectors can make calls and collect money in their first year, but you'll need benchmarks to measure the difference between just doing the job and excelling.
Train to reduce turnover of collection agents
Attrition is unavoidable in the collections field, but it can be reduced with training. You do your best to make sure you are hiring the right candidate and try to prepare them for what to expect, but many times you can't prepare them for the reality of the job. A collector not properly trained might not be able to handle the conflict that is inherent in the job. Lacking those tools, they may become disenfranchised and look for another line of work. Now you have to restart the whole process again, and replacing employees comes at a cost.
There is also the time an untrained collector (or collection agent) takes away from your manager. Without proper training, a collector will have to rely too much on their manager to help navigate difficult conversations and accounts. They won't have the proper tools to negotiate with the customer, and their manager will have to intervene. Those difficult conflicts will almost always end up on the manager's desk to resolve. A manager has a lot of roles to perform during the day, and they can't have their time tied up in "hand holding" untrained staff.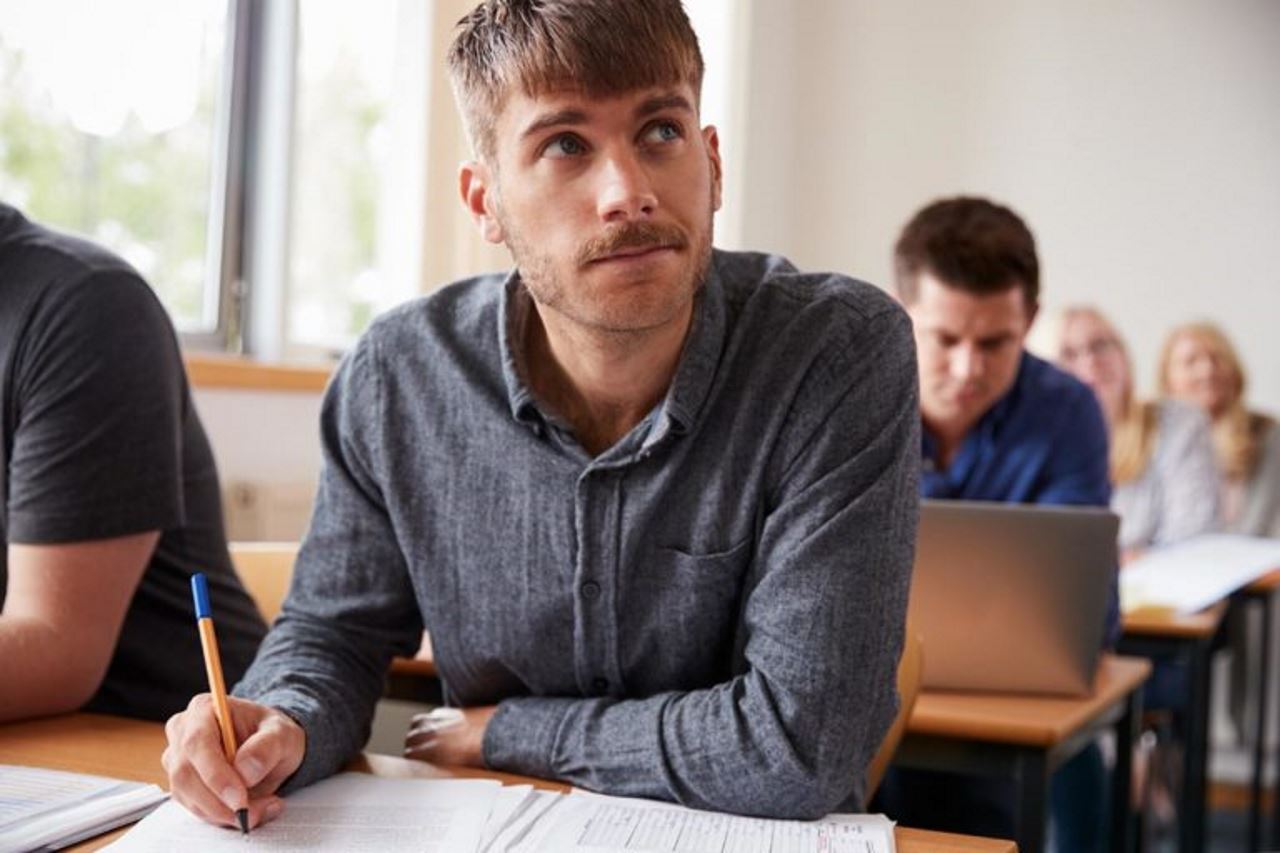 Measure the effect training can have on financial metrics (DSO and delinquency)
The main goal of collection departments is to reduce DSO and delinquency. Although DSO has some inherent deficiencies, it is a measure by which many collection departments are judged. Less efficient collections will naturally lead to a higher DSO.
Likewise, less efficient collections will lead to an increase in your delinquency, and you will see your delinquency increase as a percentage of your overall balance. Your invoices will age out, and statistics show that as invoices age, the less chance you will be able to collect on them. All this will lead to a higher rate of write offs and less money collected.
The offer
When I look back on my career, I think of all conflicts and situations I could have handled better, if I only knew then what I know now. As a Senior Business Consultant for Billtrust's Collections solution, I can help. I created Professional Collections Training to provide answers to the key questions that guide your collections strategy. The training is interactive and covers the following topics:
The role of a collections professional
Best practices for contact preparation
Applying six W's (Who, What, When, Where, Why and hoW) to your collections plan
Defining an escalation strategy
Planning to resolve conflict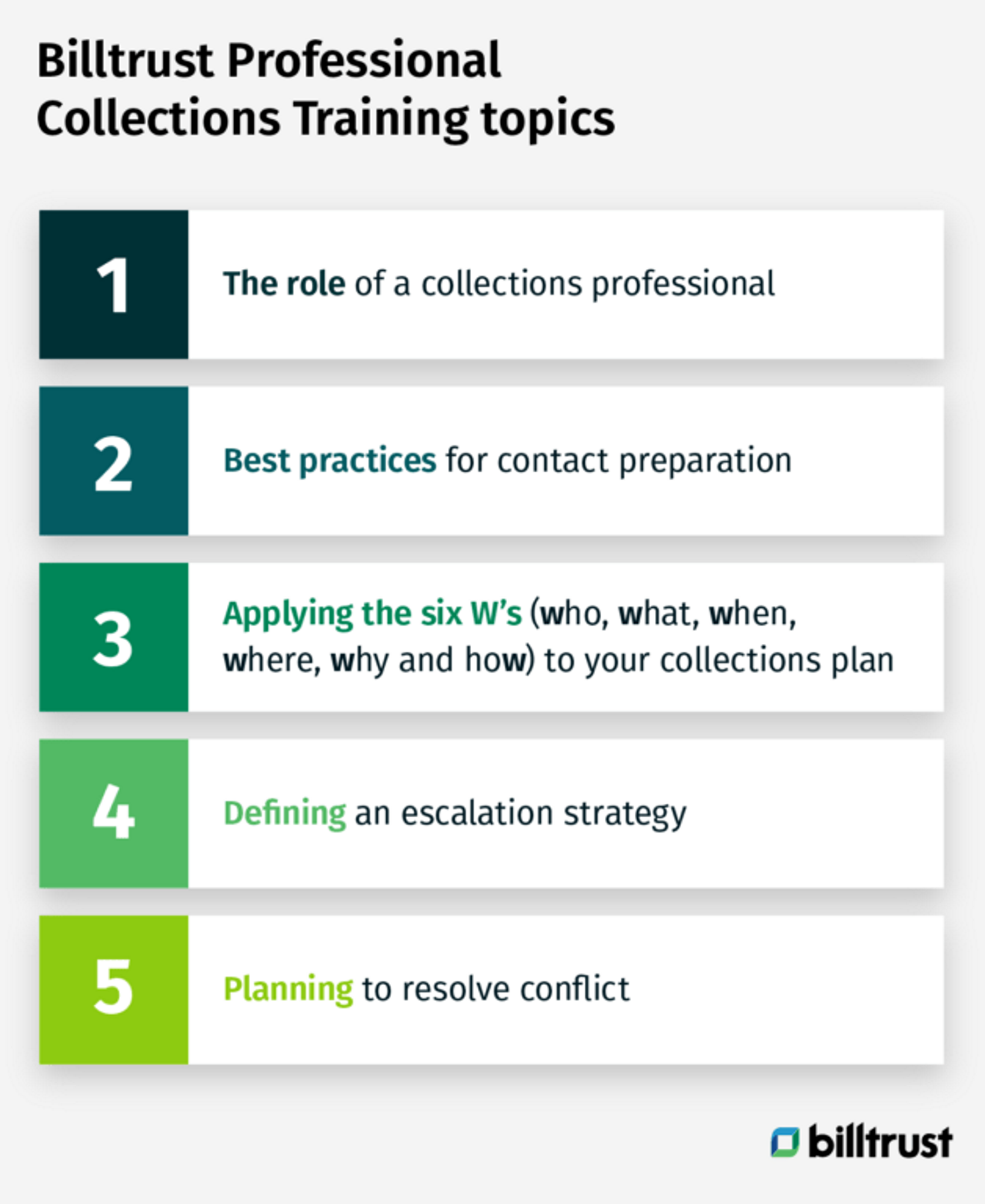 Continue the collections software and training conversation
To learn more about how Professional Collections Training can impact your business, fill out the contact form and a Billtrust expert will be in touch with you soon.
About John
John Floyd is the Senior Business Consultant for Billtrust, supporting customers to implement collections solutions and optimize their environment to reduce DSO and delinquency. With 20+ years of experience in credit and collections, John has held the positions of Credit Analyst, Risk Compliance Analyst, Analyst - Order to Cash, Credit and Collections Supervisor, Credit Analyst and Collections. He has managed in-house and outsourced collections teams. In his career, John has created policies and procedures, as well as correspondences (i.e. dunning letters, final demand letters, credit applications, and payments plans) for multiple companies.