When you make it easy to pay you, you get paid faster. So, simply by improving your payments processes your business can possibly lower its days sales outstanding (DSO) and improve its cash flow.
The main ingredients to an easier, more customer-centric payments process are more electronic billing and digital payments. By modernizing and digitizing your accounts receivable processes, you'll make your customers love paying you. Here's how: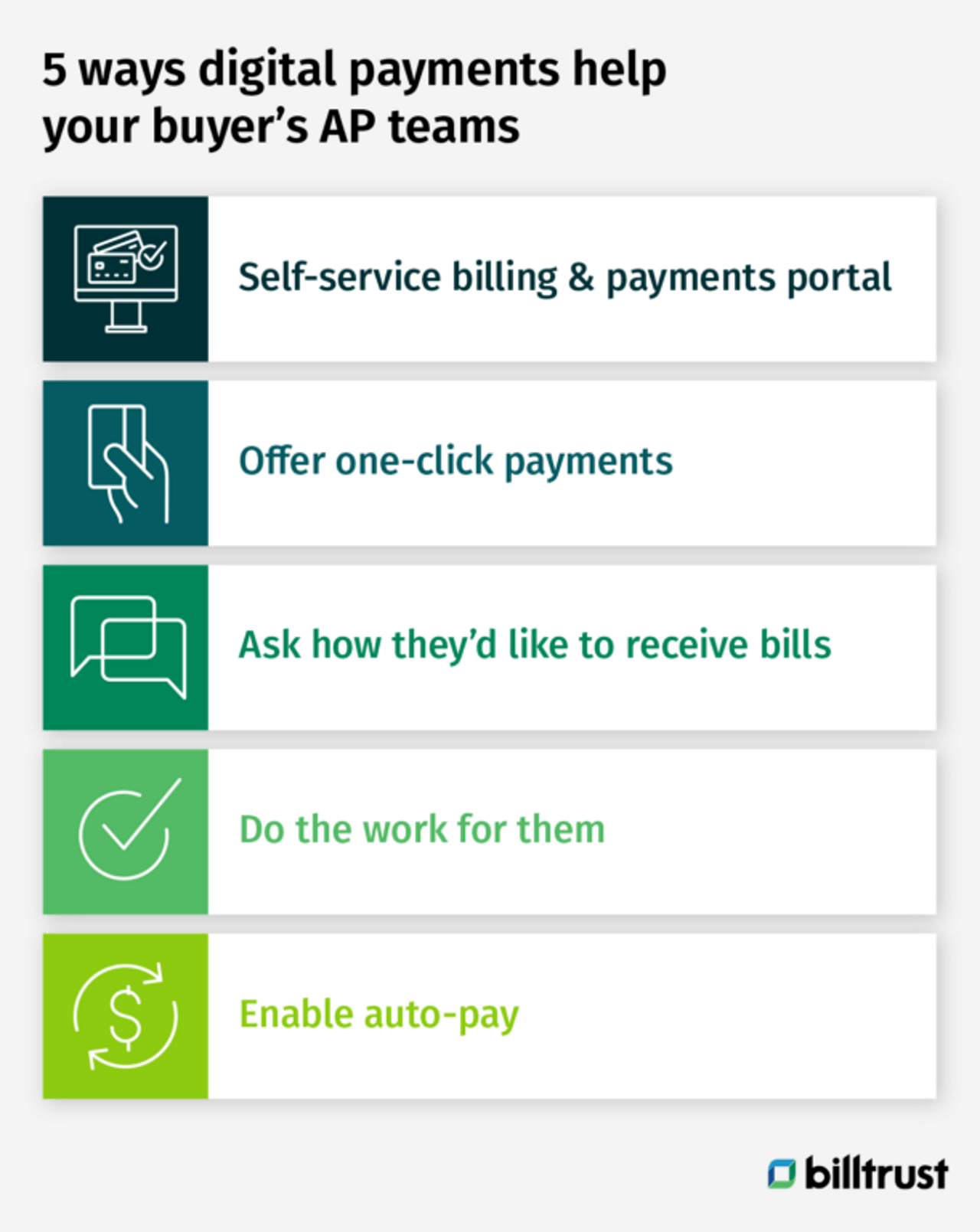 1. Self-service billing and payments portal
With a self-service portal, your customers can view and pay their invoices from anywhere. In today's remote / flexible work environment that's a major benefit. Your customers will also love self-service portals' history feature. Did they lose track of an invoice? No problem. Did they forget if they've paid a bill? The history is all there and it's available 24/7.
Besides making your customers happy, self-service portals enable instant invoice delivery and immediate payment. The faster invoices are delivered, the faster they are paid.
2. Offer one-click payments
Move your customers from viewing your invoice to paying it with one-click. Accounts payable teams are just like accounts receivable teams, they have a lot of manual work to do and friction slows them down.
If you are delivering invoices electronically through a self-service portal, your customers can pay you directly in the portal using digital payments.
Some customers are infrequent orderers and they may prefer to not enroll in your self-service portal. In that case, you might find yourself delivering invoices to them by email.
But you can still offer one-click payments, even in emailed invoices. With Pay on Email you can offer your customers the equivalent of a "guest checkout" experience on consumer eCommerce sites. They simply click PAY NOW and are transported to your portal where they will pay as a guest.
3. Ask how they'd like to receive bills
Talk to your customers about their billing preferences. Accounts payable processes differ by customer. Some customers like one invoice per item while others need consolidated invoices.
A few of your customers may have AP systems while most have accounting software. If you automatically deliver invoices in their preferred format, you will get paid faster.
4. Do the work for them
Invoice your customers using the most convenient method for them – and you will be paid faster. That means different things for different customers.
Enterprise buyers
Large buyers have huge accounts payable teams and employ sophisticated accounts payable platforms. They require their suppliers to invoice them directly through these platforms.
If you're working with a large buyer that demands you invoice them through their AP portal, you're not alone. AP platform adoption is growing.
There are three main strategies for invoicing into an AP platform: a data-entry workforce, an internal IT connection or a third-party vendor.
Expanding your data-entry workforce is expensive. Establishing individual connections between your systems and your customer's AP portal is a big investment in IT resources and an inflexible solution. A third-party vendor can allow you to automatically invoice into dozens of different AP portals.
Mid-market buyers
Mid-market buyers have AP teams of 1 – 4 employees.
They are generally receptive to receiving invoices and making payments through a self-service portal maintained by their suppliers.
Small business buyers
Smaller buyers may not have a dedicated AP team.
They purchase from their suppliers infrequently and are not as interested in signing up for and maintaining credentials on multiple suppliers' self-service platforms. Email billing with Pay on Email is a good electronic invoicing solution for them.
5. Enable auto-pay
You've probably forgotten that you pay your electric and water bills every month because you put them on auto-pay and they just come out of your account. Imagine if paying your organization's invoices were that easy too.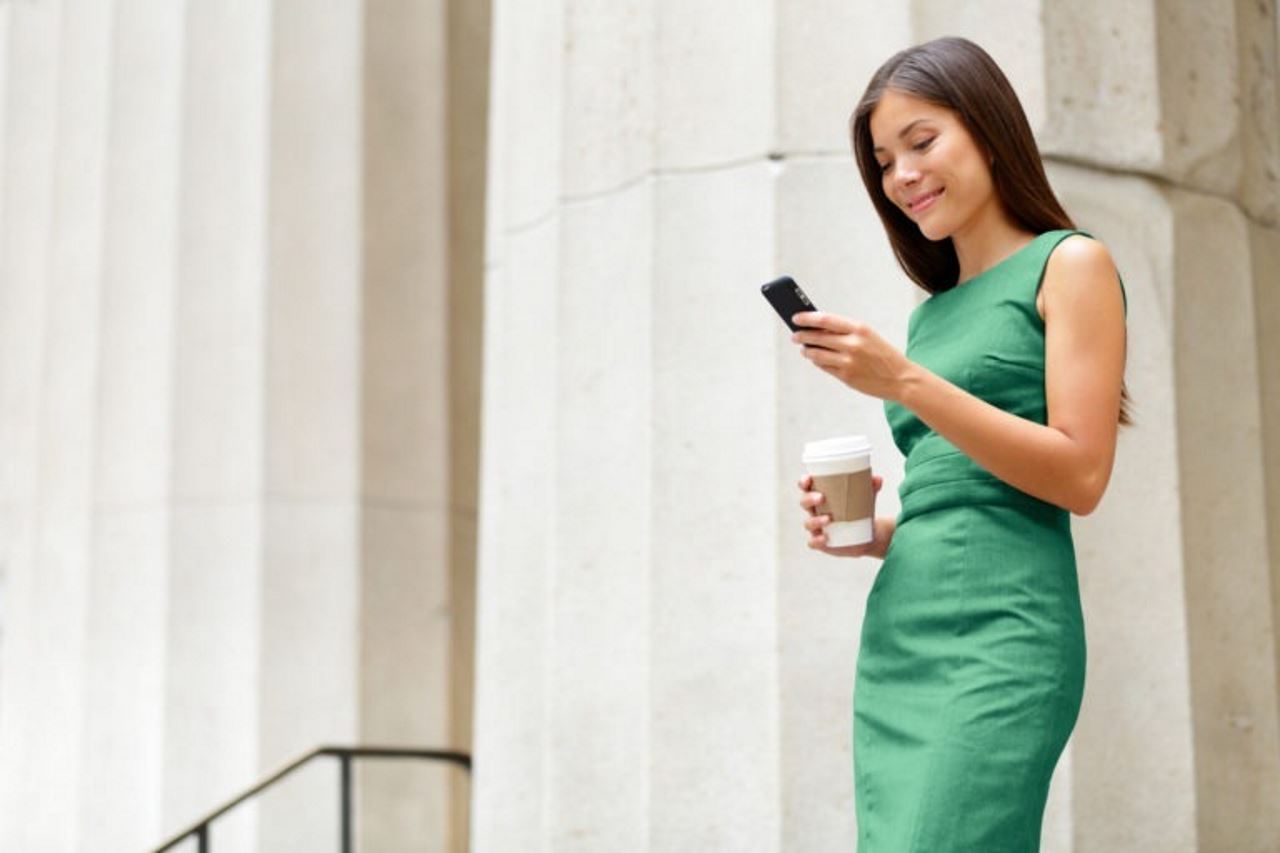 A customer-centric approach is profitable
According to Deloitte, customer-centric companies are 60% more profitable than companies that do not focus on the customer. Technology has changed consumer expectations in every way. If the buying process is cumbersome and clunky, people may look elsewhere.
Unfortunately, many B2B companies have generally ignored this trend as it relates to taking their customers' payments. Delivering your customer's invoices and taking their payments are customer-facing activities. They are just as important to the customer as browsing your inventory or getting great service.
Many B2B sellers don't even have a portal where you can log on, view invoice/billing history, make payments and log disputes. This forces customers to do business over the phone with a customer billing specialist, with long hold times between the hours of 9 am – 4 pm. This process not only aggravates customers; it also takes valuable employee time and money. If your business has a recurring customer base that frequently purchases from you, this process is all the more critical.
Conclusion
It is possible to get your customers to love making payments. And it's actually less expensive than your current invoicing methods. If you'd like to learn more, fill out the form and an electronic billing and payments expert will get in touch.