If you're like most businesses, you're always looking for ways to become more efficient and profitable. This is where accounts receivable services can help.
A professional accounts receivable (AR) company can help you streamline your billing process and ensure that you receive payments on time. In addition, by outsourcing your accounts receivable services, you can focus on running your business and generating more profits.
Below, we will discuss the benefits of using an accounts receivable service and how it can help your business run more efficiently and profitably.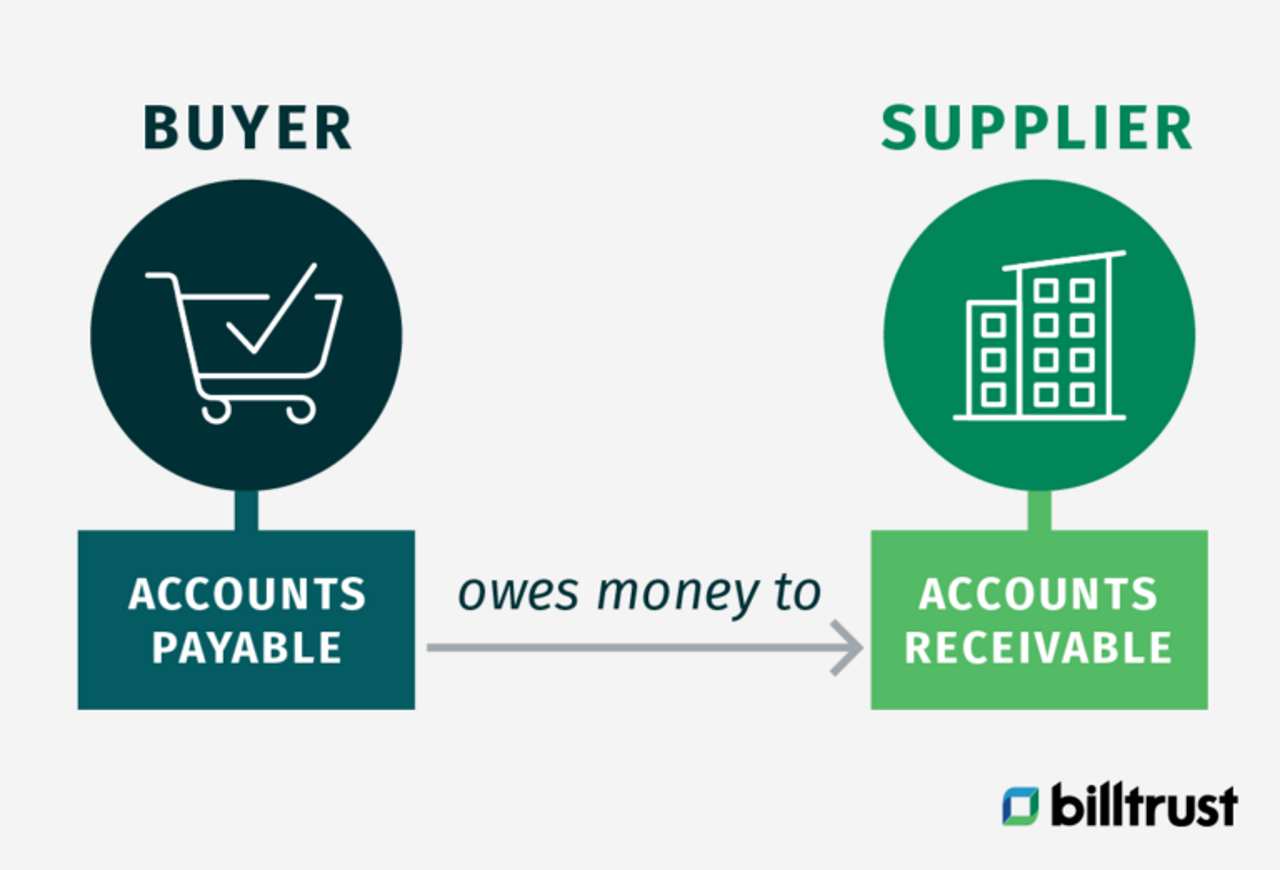 What are accounts receivable?
Accounts receivable refers to the money that a company has a right to receive because it has provided goods or services on credit. In other words, it's the money that customers owe the company for products or services they have received but have not yet paid for.
For example, Company XYZ sells widgets to customers on credit. Once the customer receives the widget, they have a certain period to pay Company XYZ back for the widget. This is typically 30 days. Company XYZ would then record the sale as an account receivable on its balance sheet.
Once the customer pays Company XYZ back for the widget, the account receivable would be removed from the balance sheet and replaced with cash. Accounts receivable are an integral part of a company's business because it represents the future revenue that your company is expecting to receive. The number of accounts receivable your company can give you insights into how quickly your customers are paying their invoices and how healthy your overall cash flow is.
Generally speaking, companies with higher amounts of accounts receivable tend to have more difficulty collecting payments from their customers than companies with lower amounts of accounts receivable. This is because customers who owe large amounts of money to a company are more likely to default on their payments or declare bankruptcy than customers who only owe a small amount.
What are accounts receivable services?
Accounts receivable services help you keep track of customer payments and manage your cash flow. This can include tasks such as invoicing, collections, and customer service. In addition, accounts receivable services can provide valuable insights into customer behavior. AR can help you to identify trends and optimize your collections and billing processes.
Ultimately, the right provider can help you to streamline your accounts receivable process and improve your bottom line. For instance, your AR team will have more time to focus on other core competencies.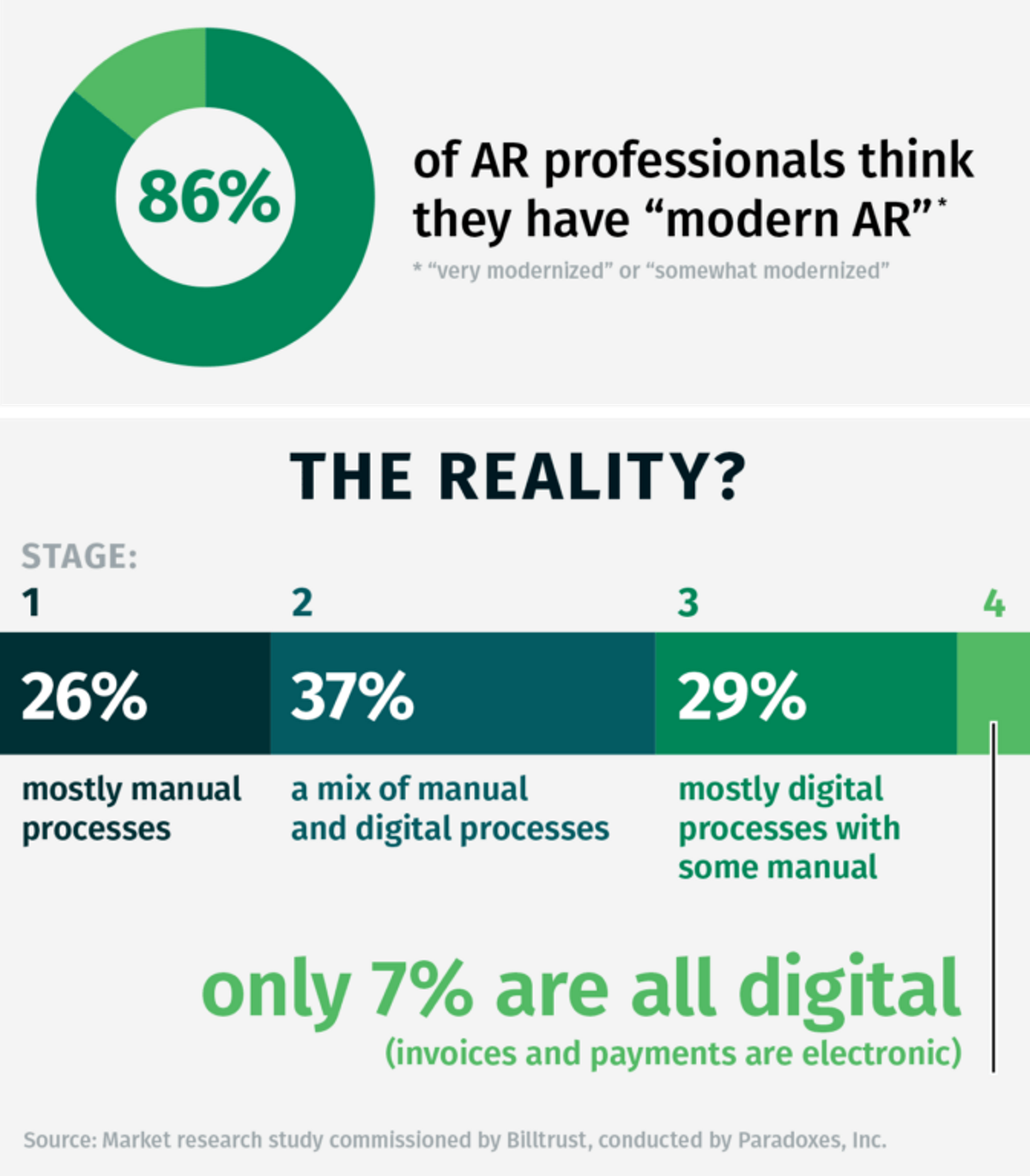 Why use an AR service?
Accounts receivable services provide your business with the tools and resources you need to streamline invoicing, collections processes and payments. AR services can provide so many benefits, including the key perks listed below:
Improved cash flow: AR services can help you get paid faster by automating invoice processing and sending reminders to customers who are overdue on their payments. This optimizes your business's cash flow.
Reduced administration costs: AR services can save you time and money by handling all aspects of invoicing and accounts receivable collections, from creating invoices to issuing reminders and follow-ups. This can free up your staff to focus on other tasks and help you avoid late payment penalties.
Increased visibility into your customer base: AR services can give insights into your customer behavior, including payment patterns and trends. The information can help you to improve your customer relations and business planning. By tracking customer payment trends, you can better understand their spending patterns and tailor their products and services accordingly.
Increased focus on running your business: Managing accounts receivable can be time-consuming, especially if you don't have a dedicated accounting staff. By outsourcing this task to a professional service, you can free up your time to focus on running your business.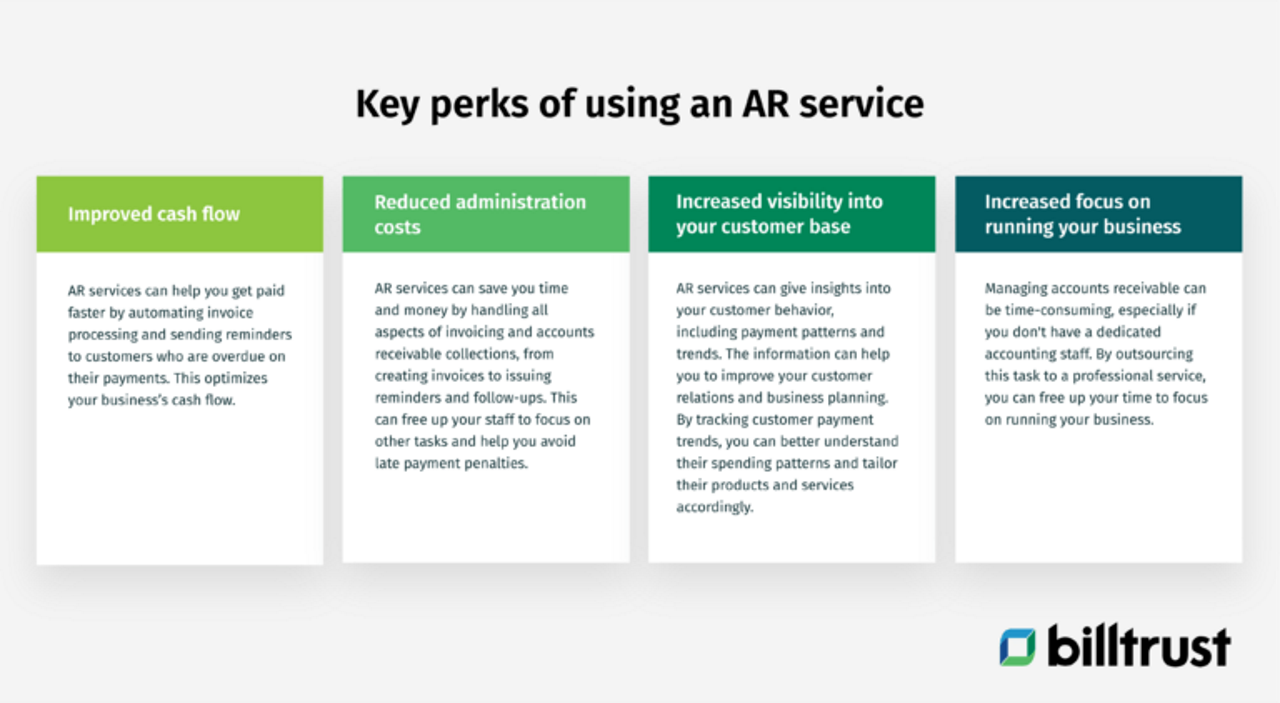 Is accounts receivable customer service?
While accounts receivable in and of itself is not considered customer service, it offers a natural extension of your day-to-day customer service team in numerous ways.
How?
Accounts receivable involve interacting with customers who have outstanding invoices. The goal of accounts receivable is to collect payments promptly while maintaining good relationships with customers. This can be challenging, as customers may be resistant to paying invoices. Therefore, AR and customer service representatives must have negotiation skills and understand customer needs to find an acceptable resolution.
In some cases, accounts receivable customer service may also involve providing financing options to customers who cannot pay their invoices in full. By working with customers to find a payment solution that meets their needs, AR representatives can help businesses improve their cash flow and reduce the number of outstanding receivables.
How to choose a receivables service
The goal of accounts receivable services is to help you manage and improve your cash flow and reduce the amount of time you spend on administrative tasks.
AR services typically include four primary services: invoicing, collections, reporting and customer service. These can improve your cash flow, reduce administrative costs and increase efficiency.
Several factors to consider when choosing an accounts receivable outsourcing provider
The service provider's experience, reputation and cost.
The scope of work and set expectations for performance.
How reputable the AR services company is (to avoid any future problems).
The size of your business and your specific needs. Some providers offer a suite of features, while others specialize in a particular area, such as e-invoicing or collections.
The bottom line?
Accounts receivable services play an important role in keeping your company's financial accounts accurate and up-to-date. Without them, it's much more complicated to issue or track invoices or make hassle-free transactions with customers. Therefore, selecting the best AR services provider, particularly one that harnesses the power of automation, is crucial to ensure that your business always enjoys peak financial performance.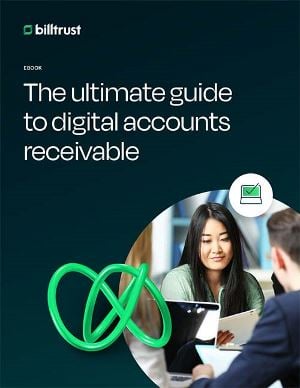 Download the ultimate guide to digital accounts receivable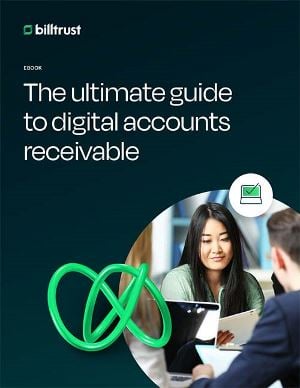 Get top tips and fresh insights that will help you control your cash flow and your daily calendar of AR tasks.
Optimize your order-to-cash cycle with accounts receivable services
While accounts receivable management is necessary, it doesn't have to be a headache.
Accounts receivable services are vital for any business that wants to ensure timely customer payments. They can save your business time, money and headaches and are worth the investment.
By outsourcing accounts receivable services, you can free up precious time and resources; your AR team can spend time on more important tasks. And by partnering with a reputable accounts receivable management company, you can rest assured that their invoices will be paid on time and in full.
Wondering how Billtrust can help you optimize your AR? Contact us today to learn more about our accounts receivable management services.