The COVID-19 pandemic is, of course, the main driver. But a confluence of secondary causes may have changed the U.S and global business environment forever.

The proliferation of video conferencing software and cloud solutions for business enabled nearly 42% of the U.S. labor force to transition to working from home. Jobs were preserved, workers were kept safer and business had a chance to continue.
But businesses that had already adopted digital solutions for their vital processes found themselves transitioning to the new normal much more smoothly than some of their peers.
An investment in flexibility
83% of B2B firms have changed their AR processes since the start of the COVID-19 pandemic. So, it's clear that most businesses recognized a need to adjust.
But change isn't easy – when it came to adjusting their credit terms, having access to advanced AR automation was a boost.
AR automation takes much of the manual work out of the credit decisioning process, allowing for large-scale strategic changes to thousands of accounts to be made more easily.
But automation doesn't just make change easier, it also makes it smarter.
AI-powered credit management software provides accurate predictions that are helping credit managers make more precise decisions during every phase of the ongoing disruption.
Open for business
With many offices closed and major delays in postal service, the 42% of B2B payments that were made via paper check faced a difficult path to arrival. Paper invoices were delayed. Collections calls rang in empty offices.
Cash flow suffered across the country.
But digital solutions were available to keep AR running. Many businesses were already delivering a mix of paper and digital invoices and they saw their ePresentment numbers rise.
Supplier-hosted self-service portals allowed buyers to view and pay their invoices in one place. Pay on email features enabled buyers to immediately pay their emailed invoices. And advances in invoicing software allowed suppliers to automate their invoicing into accounts payable portals economically.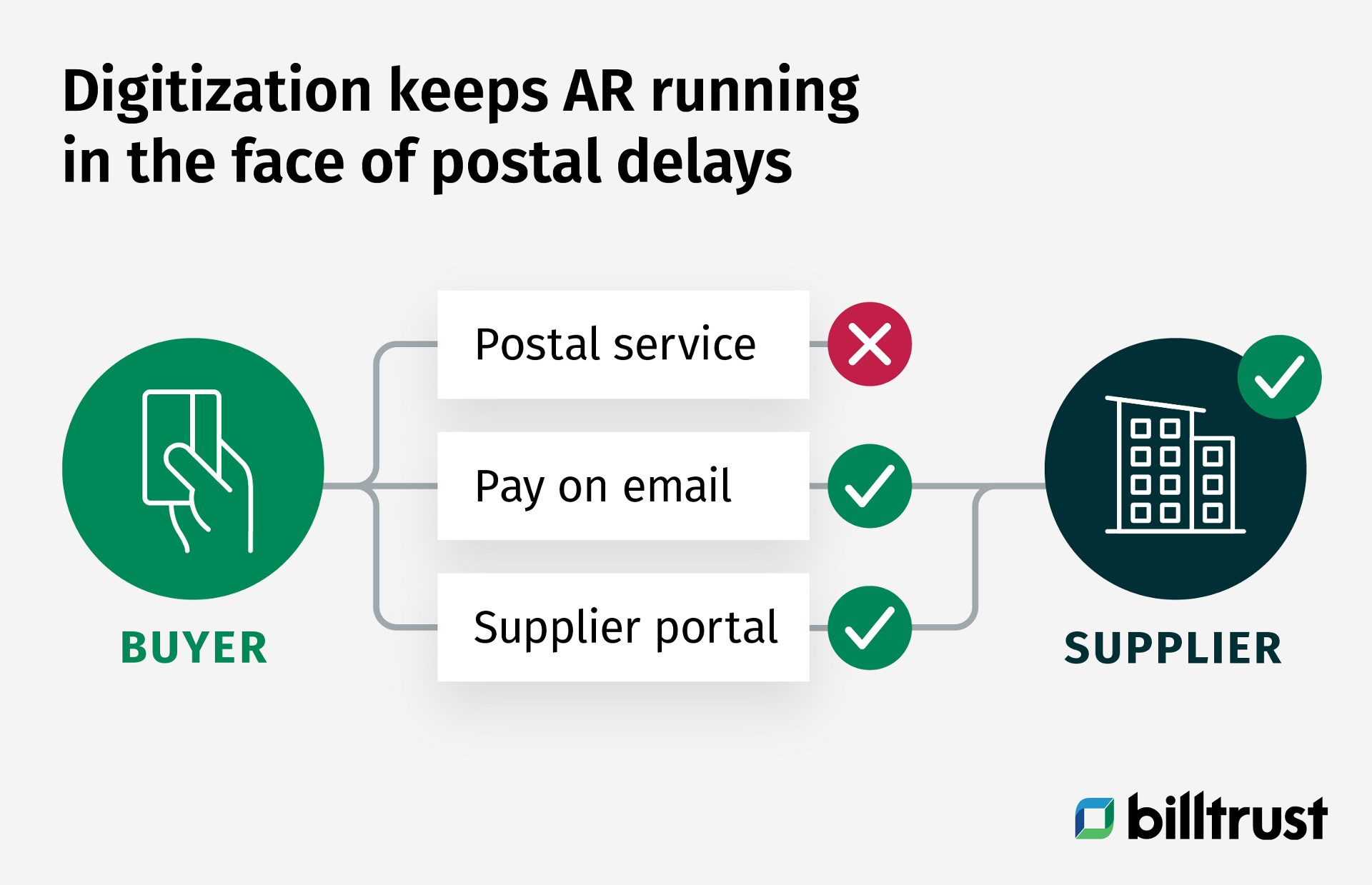 Rethinking their approach to payments
Digital payments have historically come with challenges. The problem of decoupled remittance in ACH payments has led to major cash application delays. And difficult to control interchange rates have soured many suppliers on credit card payments.
But with digital payments now being the fastest and most reliable way to get paid, many firms have discovered new solutions that are changing the payments marketplace.
Cash application automation when paired with new technologies such as the digital lockbox has virtually eliminated the disadvantages of ACH payments. Billtrust's digital lockbox technology accepts ACH payments, automatically gathers remittance from emails and websites and matches with machine-learning powered software.
Credit payments continue to come with interchange rates. But processing solutions allow suppliers to consistently lower their rates by processing with Level 2 or Level 3 data. And many have found that opening up their payment policies to card payments allowed their buyers relief in the form a 30-day period to pay their card issuer. Having the ability to easily accept more card payments can keep cash flowing and reduce delinquencies.
A new way forward
The growth of digital solutions in AR didn't just allow businesses to survive during the ongoing COVID-19 pandemic. The major strides in AR digitization has prepared the field and its professionals for the next stage in their evolution.
With manual tasks reduced and greater insights possible because of smart solutions, AR practitioners are poised to see a change in their role and their perceived importance at their places of business.
According to the U.S. bureau of labor statistics: "With more routinized tasks automated, [AR professionals] are expected to take on a more analytical and advisory role over the next ten years. For example, rather than performing manual data entry, [they] will focus more on analyzing… and pointing out potential areas for efficiency gains."
Summarizing the best strategies
Businesses benefited from reconsidering credit card payments
Self-service invoicing and payment portals provided flexibility
AR automation enabled smart changes to credit policies
Automating invoicing into AP portals lowered costs